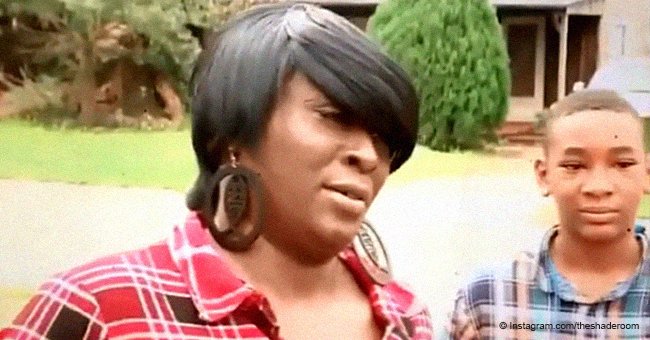 Texas grandma fights off machete-armed hoodlums with a scooter during an attempted robbery

A couple of robbers dressed as clowns met their match in a grandmother who beat them with a scooter and held them down until the police arrived to arrest them.
Two robbers in Texas should have known better than to mess with a grandmother and her husband. As they attempted to steal from the couple disguised as clowns, the grandma attacked them with a scooter and they were later arrested.
Joseph Nelson and his wife Aretha Cardinal were sitting inside their pick-up truck outside their home in the wee hours of the morning when two men later identified as 32-year-old Luis Jimenez and 35-year-old Jose Lugo approached them.
Jimenez and Lugo were both wearing clown masks and held machetes as weapons as they attempted to intimidate the couple. In his account of what happened to KTRK-TV, Nelson said one of the men wearing a white mask, orange hair, and a big red nose approached him and told him "You're gonna give it up, or I'm gonna cut you" while wielding the machete at him. Nelson described what happened next.
"He reached his hand through the window, put it on my throat like this, and I'm like, 'Dude, you serious, you trying to rob me with a machete?'"
Nelson refused to hand over his money and instead struggled with his assailant while instructing his wife to run and find a weapon she could use on the robbers. Cardinal hurried and found her grandchild's scooter in their front yard and thought,
"Any weapon is good for me if I can get you off me and my husband, that's what I'm going to do."
Cardinal used the scooter to beat the men. She also managed to break the suspects' car's window before they attempted to flee causing the scooter to be broken in half.
Meanwhile, Nelson was able to wrangle the machete from one of the suspects and chase him with it.
Their daughter called the police who arrived in the scene just in time to catch the thieves. Cardinal told Fox 26 later,
"Me and my husband held them down, you know, commence to beating them until the laws came. It was really scary, but it was like—it was either us or them—you know, and not us. You not gonna steal no money. We ain't got no money."
Lugo and Jimenez were arrested and taken into custody in the Galveston County Jail with a $100,000 bond set for each of them.
Nelson and Cardinal fought with their younger assailants and succeeded proving age is just a number. They are one of many grandparents who defy the conventions of their age with surprising acts of courage or strength.
One grandmother in particular exemplified this when she went viral due to her fondness for bodybuilding. 70-year-old Ruby Carter boasts of ripped arms, six-pack abs and chiseled legs developed from years of training. She began when she was 51 and eventually joined body building competitions vying against contestants who were much younger than her. She placed second in one of them. She later ventured into fitness modeling and competed in a body builder pageant. Check out her amazing body below and be blown away.
Please fill in your e-mail so we can share with you our top stories!