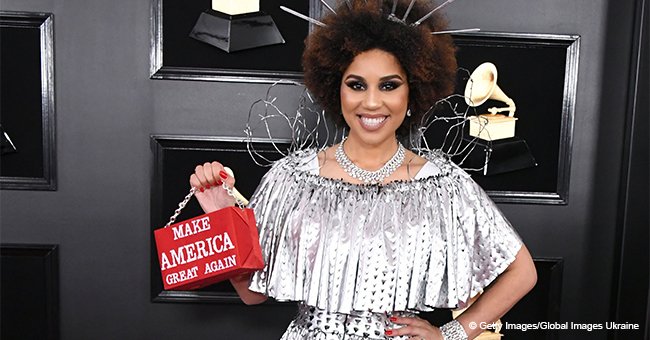 Pro-Trump singer flaunts bizarre 'Build the wall' dress with barbed wire causing debate online

Joy Villa stepped out on the red carpet for the Grammys in a pro-Trump dress that had everyone talking.
The singer graced Sunday night's Grammy Awards with a highly controversial dress that represented President Donald Trump's border wall.
At first, Villa entered with a silver dress that hugged her midriff and fell loosely over her chest. Soon enough, she revealed what lay underneath.
She showed a white dress, painted with black to outline the bricks. It was topped off by barbed wire surrounding Villa's neck.
As if that wasn't enough, the phrase "Build the Wall" was painted in bright red on the lower back of the Desi Designs Couture dress.
The 27-year-old had a crown of what looked like metal spikes. She wore a silver chainmail bracelet and neckpiece. In her hand, she held a red purse that read: "Make America Great Again."
As Twitter erupted in response to the daring ensemble, Villa spoke to LA Times on the carpet and explained her clothing choice for the big night.
"So I believe in the wall, to protect our southern border, not to keep people out but to protect the citizens of our country. I'm part Latina. I'm black, and I believe in what the president's saying."
She added:
"So this to me is a representation of that in a very couture way and like I said I always make a statement."
This isn't the first time the singer has donned a politically-themed outfit for the same event. Last year, she displayed an anti-abortion photo on a white dress.
It featured a red fetus in the middle of colored circles. Villa reportedly did it herself. Her handbag read "Choose Life" and she wore an extravagant tiara on her head.
In 2017, Villa was quite bold as she wore Trump's slogan for the presidential campaign on the train of a blue backless dress. "Make America Great Again" was plastered onto the dress designed by an immigrant named Andre Soriano.
Speaking to THR about her decision to make such bold statements at the Grammys, Villa said:
"It's an opportunity to show the world who I am on the red carpet, which to me is the same as a stage. I approach it as a show. I want to 'wow' people. My heroes on the red carpet have always been Cher, Madonna, the wild ones; the worst dressed. Or Lady Gaga with the meat dress. Who even talks about the best dressed? No one even remembers who was best-dressed last year!"
For those unaware of who Villa is, they may know her single "I Make The Static," which was number one on iTunes and Amazing in 2017. TMZ also claims that she's well-admired by the Trump family.
Trump has also been more outspoken than former presidents regarding his determination to build the border wall. He went as far as to shut down the government for 35 days and then warned of a national emergency in the future.
The president's opposers are not backing down, however. Trump held nothing back as he further attacked the House Democrats for the continuing Russian investigation.
Last week, Adam Schiff, chairman of the House Intelligence Committee, announced that the matter would cover Trump's personal life. Trump then went onto Twitter to call the House out for "presidential harassment."
He claimed that no other president had to endure "unlimited harassment." He then went on to say:
"...The Dems and their committees are going "nuts." The Republicans never did this to President Obama, there would be no time left to run government. I hear other committee heads will do the same thing. Even stealing people who work at White House! A continuation of Witch Hunt!"
People were quick to point to the president as being hypocritical because he had pushed the Obama birther movement even after the former president showed his Hawaiian birth certificate.
Many also referenced Trump's general harassment of others in the political area. Some made it clear that what Congress was doing was simply their duty.
Please fill in your e-mail so we can share with you our top stories!