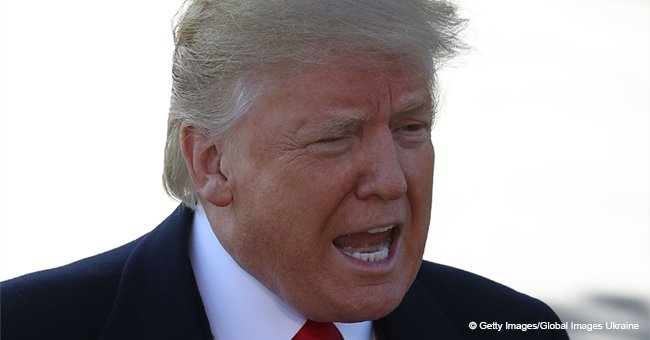 Donald Trump mocks 'Pocahontas' Elizabeth Warren by referring to Native American genocide
Shortly after Senator Elizabeth Warren announced her bid for the presidency, President Donald Trump received backlash for his Twitter response about her Native American ancestry.
Whether President Trump posted the tweet in ignorance or with intent, many accused Donald that his all caps use of the word "TRAIL" referred to a tragic event in the 19th century.
The "Trail of Tears" took place when thousands of Native Americans got forced to relocate under the presidency of Andrew Jackson.
Thousands of Native Americans died during the journey from their lands in the American southeast to the Oklahoma reservations following the Indian Removal Act of 1830. Hunger, disease, and exposure claimed the lives of many before they could reach their destination.
A portrait of the seventh president of the United States, Andrew Jackson, hangs on a wall in the Oval Office. A former president Donald Trump has called an inspiration to his own policies regarding natives and the populace. Donald Trump Jr. did not escape criticism for his response to his father's original post:
Critics called his response a crude racial slur, as one follower posted:
Some people defended Donald Trump's tweet and pointed out that Donald Trump is ignorant about history and likely didn't know about the "Trail of Tears," as another follower wrote:
Neither the White House nor Senator Warren's campaign responded with comments regarding Donald Trump's tweet to "Pocahontas."
President Trump had previously mocked Warren's ancestry and claimed that she wasn't of Native American descent. The matter went as far that Warren took a DNA test whereafter Donald Trump had to swallow his words and publicly apologize.
Senator Elizabeth Warren strategically announced her bid in Lawrence, Massachusetts. The site of the 1912 textile strike by female immigrant workers who walked out and refused to further work under terrible conditions.
Endorsed by fellow Massachusetts Senators Ed Markey and Rep. Joe Kennedy III, Warren's campaign largely focuses on economic inequality and made her choice of her announcement location very symbolic.
The senator spoke of Lawrence, and how this story of economic inequality in 1912 became the blueprint for her campaign as she said:
"These workers – led by women – didn't have much. Not even a common language. Nevertheless, they persisted. Hard-working people are up against a small group that holds far too much power, not just in our economy, but also in our democracy. Like the women of Lawrence, we are here to say enough is enough!"
Donald Trump also had an opinion about the recent incident in Washington D.C. when a video went viral in January of a Catholic High School pupil, Nick Sandmann as she smirked at a Native American army veteran, the 64-year-old Nathan Phillips after a rally.
Please fill in your e-mail so we can share with you our top stories!