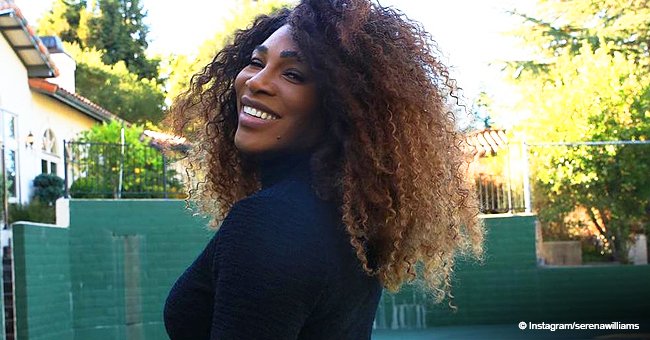 Serena Williams' husband posts pic of daughter in headphones, revealing their striking resemblance
Alexis Ohanian is melting hearts all over Instagram after sharing an adorable pic of his daughter, Alexis Olympia, getting ready to follow his steps in the gaming industry.
The Reddit co-founder is also one of the majoritarian owners of Cloud9, and eSports team that covers several gaming communities, including League of Legends and the popular Overwatch.
Ohanian not only invests his money on the team, but also loves to spend time playing the games, and he seems to be sharing his passion with 1-year-old daughter, Olympia.
In a recent pic shared to Instagram, the proud dad captured the girl wearing big gaming headphones, a white t-shirt, and her amber necklace, while sitting on his lap.
Olympia was having a great time if the massive smile on her face if anything to go by. Ohanian captioned the adorable shot:
"Gonna be a while before she's allowed to play video games, but @olympiaohanian is gonna earn that spot on the @cloud9gg roster can't wait to play a little Overwatch and HOTS with her. #DadThings."
Fans of the tech businessman and his tennis superstar wife took over the comment section to gush about Olympia, how big she's gotten and how much she looks like Alexis.
"That is sooooo cute. She is really growing!!! OMG!! She looks so much like her dad..." wrote one user.
Another added, "Like....she literally has your whole face. She's such a little cutie, and hopefully, the next one looks just like mama, so you both have a little twin."
And a third one said, "She is such an Angel; looking just like her Mama."
Ohanian, a best-selling author, and successful entrepreneur has been open about his position on paternity leave and why he believes is important for companies to give fathers the time to bond with their newborns, and take the role of caregivers along with their partners, without worrying about their payment or position.
"To have those moments and feel that closeness was just spectacular and there are things we have with each other that I'm grateful for," Ohanian told CNN of his bonding time with Olympia after her birth. "Being able to develop that connection to the little one, but then also to my partner, my wife was so valuable as well."
He added:
"My wife had had a really great pregnancy, but then complications during and after the birth meant she was dealing with a lot herself and I had to do everything. I could be the supportive husband and supportive father, and it really put into perspective for me how important creating this family leave policy is for men and women who want to become parents."
Ohanian leads by example, approving a plan of 16 weeks of paid family leave on both Reddit and his new company, Initialized Capital, plus an additional leave plan for women that, like his wife, could have birth complications.
The 35-year-old enjoys spending time with his adorable daughter, and he says that while being a dad is "a lot of fun," there are mornings "when the coffee helps a lot as a new parent. I'm grateful for it."
Meanwhile, Serena Williams recently lost her spot at the Australian Open, and announced a new partnership with the app Bumble, titled "The Ball is in Her Court."
The campaign encourages women of all ages to take the first move in every aspect of their lives, instead of waiting for opportunities to come to them, Williams stated that society has taught women they have to wait for an invitation and always be second, but that's not true, and she will instill that to baby Olympia.
"I want to teach her that it's okay to make the first move," she said on a recent interview with "Good Morning America." And added,
"It's okay to ask and to say, 'Listen, I want a chance at being in this play. Put me in, or give me this first opportunity.'"
Please fill in your e-mail so we can share with you our top stories!