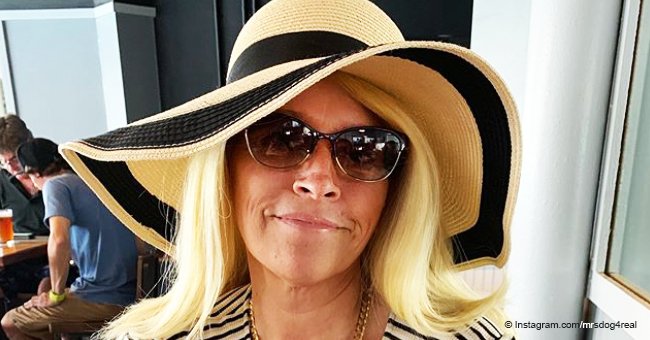 Beth Chapman is 'sooooo in love' with her husband as she shares an intimate photo of them hugging
Duane Chapman has proven that he takes his marriage vows seriously when it comes to wife Beth, never faltering in his support of her during the most difficult times of their life together.
Duane "Dog the Bounty Hunter" Chapman and wife Beth have been through a lot the past couple of years, and have managed to come out on top every time.
A recent snap on Instagram shows the couple in a warm embrace standing on a white wrap-around balcony. Bare-footed Beth and her Dog are both dressed in black, with his hand finding a comfortable spot under her t-shirt sleeve.
FOR BETTER OR WORSE
Fans of the couple have been following their show since 2004, eagerly immersing themselves in the fascinating world of bounty hunting. The show was canceled in 2012 due to contract negotiation difficulties.
In 2017, fans were once again thrown into the fray with a special called "Dog and Beth: Fight of Their Lives" that followed Beth's battle with throat cancer.
After the closing down of their bounty office in Hawaii and the tragic passing of one of Beth's beloved dogs, it seemed that life insisted on continuing to kick Dog while he was down.
IN SICKNESS AND IN HEALTH
Fans wept with Beth when an emergency procedure in November 2018 to remove a blockage from her throat revealed that the dreaded disease had returned.
Dog stayed true to Beth and has been a constant source of strength for her and their family. It's no wonder she loves her husband so plainly and publicly when he recently admitted:
"I pray a lot, anywhere. I cry all the time … I constantly ask God to heal my honey and make sure He takes care of it. I've been telling Him that I'm going to try and quit smoking and cursing. I'm a dealmaker, and I'll do anything."
The reality star has been undergoing chemotherapy and has also sought out alternative medicines and cures for her illness. She is also reportedly planning her funeral to save Dog the emotional hassle when the time comes.
TIL DEATH US DO PART
In the meantime, the couple does what they do best – bounty hunt. Beth has been teasing a new show for the past couple of months and details have finally been released.
The pair will star in a show called "Dog's Most Wanted" where they will hunt down fugitives on the FBI, US Marshals, and States' Most Wanted Fugitives lists.
TO LOVE AND TO CHERISH
Beth's indomitable spirit is no doubt what fans and Dog love about her the most. The woman who is battling cancer, planning her own funeral, and starting a new television show still finds time to pamper her pooches.
The Chapmans' pizza night is apparently incomplete unless the family dogs get their share of the pie, specially made for them, with pup Duke laying next to the oven waiting for his.
FORSAKING ALL OTHERS
The insults lobbied against the couple by a Hawaii-based radio station has also failed to keep Mrs. Chapman down. She roused her fans to boycott the station, and they have.
It seems when you have the love and support of people around you, nobody can get you down.
Please fill in your e-mail so we can share with you our top stories!