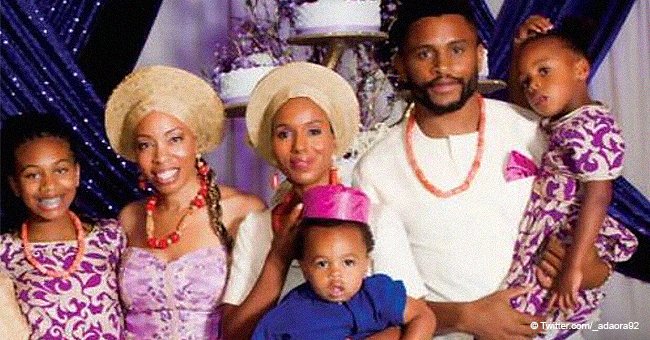 First photo of Kerry Washington's kids surfaces after keeping her family private for years
Kerry Washington has kept her family life private throughout the years, but rare photos of her kids and relatives surfaced online after someone leaked them.
A RARE FAMILY SIGHTING
Not a lot of information is known about Kerry Washington's family, and it's because she wants to keep it this way. While it's known that she is married to athlete-turned-actor Nnamdi Asomugha and that she has children, she previously revealed that she doesn't talk to the press about her family because she doesn't want to.
"If I don't talk about my personal life, it means I don't talk about my personal life. That means not only did I not tell you when I was getting married, it also means if somebody has rumors about what's going on in my marriage, I don't refute them, because I don't talk about my personal life."
Kerry gave birth to two children whom she shares with Asomugha, but she also co-parents her husband's 12-year-old daughter from a previous relationship. Although she barely speaks about her kids, there are rare times when she does, and only when she feels comfortable to do so.
A RARE INTERVIEW ON FAMILY
During a past interview with Oprah, she shared that instead of being a "headmistress" to their children, she is like an "ambassador" who hopes to introduce the world to her in a good way. In one interview she had on the "Today" show, she corrected Craig Melvin who referred to the actress as a mother of two. The actress said, "I am a mother of three," as she considers her stepdaughter as her own.
Fans were amused to see the photos of Kerry after they surfaced online, as she was wearing a traditional Igbo outfit. She wore the outfit to join the rest of her husband's family, who come from Nigerian descent. They all wore traditional Nigerian attire, which includes coral beads, geles, and kufis.
A RARE PUBLIC DATE NIGHT
Just last December, Kerry let down her walls and took her husband, Nnamdi to a movie premiere in New York. The couple stepped out to watch the special screening of "If Beale Street Could Talk." It was a special night for Washingon, as she hosted the movie screening. The "Scandal" actress opted for a simple outfit, wearing a loose beige sweater, a pair of blue jeans, and brown heels. She also chose to for simpler accessories, with a pair of earrings, lip gloss, and very natural makeup.
Meanwhile, her beau wore a gray top, blue trench coat, and black pants to match her outfit.
Kerry and Nnamdi have been married since June 24, 2013, in a secret ceremony in Hailey, Idaho, with only their closest family and friends in attendance. Now, they continue to live their quiet life together, while Kerry and Nnamdi work hard under the spotlight to provide the best life for their three children.
Please fill in your e-mail so we can share with you our top stories!