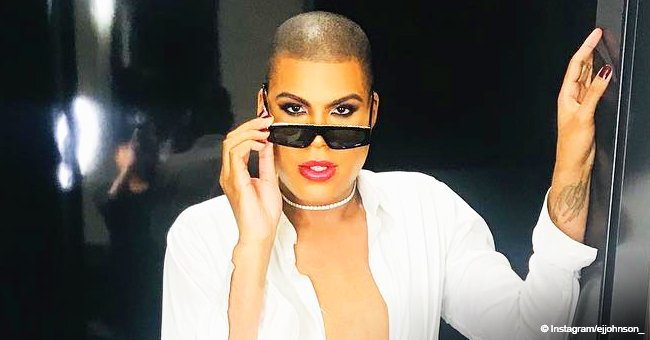 Magic Johnson's son grabs attention, showing his curves in tight jumpsuit & high heels in new video
EJ Johnson is showing off his modeling skills in a new clip shared to Instagram, as he turned a hall into his runaway showing off his curves in a see-through jumpsuit.
EJ Johnson is always on his element whenever New York Fashion week comes around, and this time is no different. The 25-year-old recently attended Laquan Smith's show, sat on the front row with his sister Elisa, and also did a special runaway rocking the designer's clothes.
In a clip shared to Instagram, EJ can be seen walking down a hall with attitude, making the world into his runaway as he drops his red fur coat and turns around to give the camera a better view of his curves while smirking.
EJ rocked a see-through lace jumpsuit with a flower pattern from LaQuan's collection that left little to the imagination, black heels, diamond necklace and completed the look with heavy makeup.
"Casting call @laquan_smith #nyfw #teamthis," Johnson captioned the post.
BREAKING GENDER RULES
Ever since officially coming out as a gay man in 2013, EJ has become an LGBTQ+ icon, not only for his activism and work to help young people in the community but also for his intake on fashion and gender roles.
The "Rich Kids of Beverly Hills" star has created a trademark with his androgynous looks, rocking dresses, skirts, heels, and makeup with the same confidence he can pull off pantsuits, jeans and sneakers.
For EJ, living his truth and not minding other people's opinions has worked in his favor.
"I wear what I want to wear, and I do what I want to do, and I think everyone should do that," he told BET a few years ago. And continued:
"I think everyone should just live life the way that you want to live it and if you identify as some certain way or as some certain gender term that makes you comfortable, then, by all means, use it and own it. For me, I just live fluid. I just do me, and there's really no other way to explain it."
SPEAKING ON TRANSITIONING
Although his way of dressing has raised questions about EJ's gender identity, with people jumping to the conclusion he was going to transition into a woman at any minute, Johnson has cleared those rumors in several occasions.
On an episode of his short-lived reality show "EJNYC," Johnson visited a therapist to discuss his views on transitioning. "I've always been very fashion-forward," he said. "I've always definitely mixed men's and women's fashion in my life, but I never thought that it would raise so many questions about my own gender. I never really thought it was under investigation."
EJ explained that sometimes is hard being in a "gray area," and mentioned that since Caitlyn Jenner came out as a transgender woman, the discussion about transgender people has increased, and everyone would just jump to conclusions if you dress a certain type of way.
"For me, I just live fluid. I just do me, and there's really no other way to explain it."
However, EJ admitted Jenner's situation made him reflect about it.
"I was just like, 'Well, do I want to transition? Is this something that I would do?' But I don't feel incomplete in that way. I don't feel the need to do that," he said.
WORKING FOR THE LGBTQ+ YOUTH
Johnson is also aware he's privileged for being able to dress and act however he pleases in a world where many other kids have to hide their true selves to be safe. And that's why he works with several organizations to help end LGBTQ homelessness.
To recognize his efforts, the Human Rights Campaign Foundation will be presenting EJ with the Upstander Award at their sixth annual Time to THRIVE Conference.
"E.J. is a powerful role model to LGBTQ youth everywhere -- showing through his work that all young people deserve a safe and inclusive place to thrive, and an equal chance to succeed in all aspects of their lives," said Vincent Pompei, Director of HRC's Youth Well-Being Project.
Please fill in your e-mail so we can share with you our top stories!