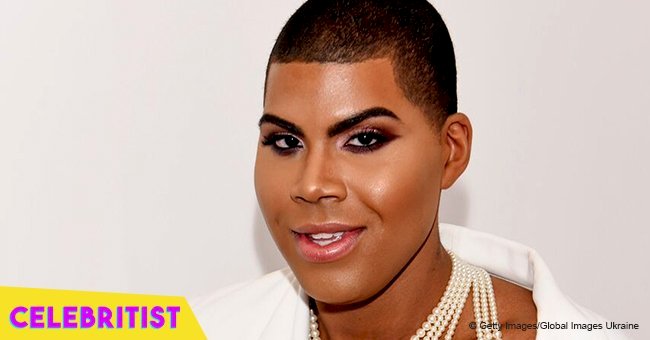 EJ Johnson flaunts his toned legs & bare chest in black sequined mini dress & high-heeled boots

EJ Johnson sent heads turning as he sizzled in a recent Instagram photo. This time, the "Rich Kids of Beverly Hills" alum shared the spotlight with his sister.
EJ is the son of basketball legend, Magic Johnson, and was born into fame. For a long time now, however, he's been making a name for himself as a fierce fashion icon. In a recent photo posted to Instagram, EJ stayed on trend with an eye-popping outfit.
The reality star stunned in a black sequined mini dress. The glittering piece was fashioned like a mini jacket and featured a plunging neckline and long sleeves. EJ paired the dress with a single neckpiece and black thigh-high boots.
Beside him was his younger sister, the adopted daughter of Cookie and Magic Johnson. Elisa also opted for a black look, sporting skimpy bustier top and tight PVC leggings. Chunky boots, a small handbag, and her sleek bob hairstyle completed the ensemble.
The siblings looked to be out for an event, and Elisa was pictured talking and pointing at something. EJ and Elisa also have an older brother, Andre, born to Magic from a previous relationship.
STUNNING IN L.A
Only about three days ago, EJ was spotted out and about in L.A, wearing a Fendi shirt and jacket, and a thigh-skimming PVC skirt. The openly gay TV personality knotted the open shirt in front and draped the coat over his shoulders. Meanwhile, his skirt came with a soaring side-split that rode far up his thighs, putting his long legs on display.
Considering that his father has an imposing stature, EJ's physical attributes don't come as much of a surprise, but the 26-year-old makes sure to flaunt his assets, especially since losing a ton of weight.
EXTREME WEIGHT LOSS
EJ lost 180 pounds- half his initial weight- in 2014 after undergoing gastric sleeve surgery. He opened up about the procedure in 2015, saying:
"The attention I get from men now is completely different than before. I feel like I definitely don't have to work as hard. I feel like my stars have aligned right now. I just put out my energy, whether it's flirty or sexual or romantic energy, and I just receive response."
DOWNSIDES OF A NEW BODY
Sadly, three years after his statement, the "EJNYC" star realized not all that attention was genuine. He sat down with Jada Pinkett-Smith on her Facebook show and revealed that a lot of men show interest in him for selfish reasons.
"It's always been a struggle," he admitted. "These men either just want to be there for one thing and then don't want to stay for the real relationship part, or they just want to ride the wave and be bougie and go out and have their picture taken."
For now, EJ continues to wait for the right man while slaying different outfits, showing up at popular concerts like Beyonce and Jay Z's "On The Run II" tour, and focusing on his career. He currently co-hosts MTV's after-show for "Teen Mom."
Please fill in your e-mail so we can share with you our top stories!