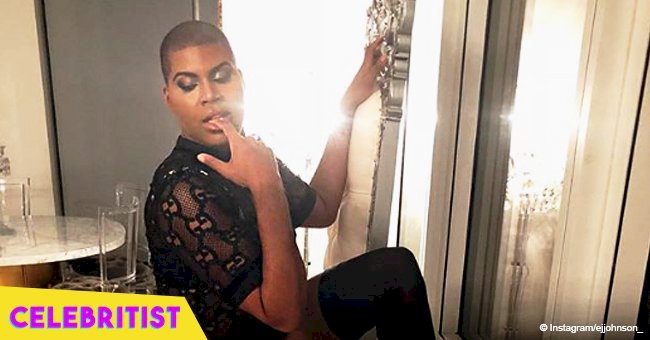 EJ Johnson shows off his plastic dance moves at Beyoncé & Jay-Z's concert in recent video
EJ Johnson and his sister Elisa attended Beyoncé's and Jay-Z's joint tour, and they didn't hold back with their dance moves. The young man was recorded showing off his diva skills by the one and only Tina Lawson.
The eldest son of NBA legend Magic Johnson and his wife Cookie knows how to steal the spotlight and make heads turn everywhere he goes. EJ is known for his extravagant and flamboyant fashion style, and when he attended the "On The Run II" tour, his outfit choice was on point, as usual.
EJ rocked a button-up, collared, long sleeve silk shirt from Versace, showing off the gold, black and white "wild print" that characterizes the brand's latest collection. He paired the blouse with a high waisted black skirt and matching ankle boots, rocking his usual heavy, shimmering makeup to enhance his facial features.
The 26-year-old enjoyed the concert from the VIP box alongside his sister Elisa and Beyoncé's mom, Tina Lawson. It was Tina who recorded the pair going off to "Crazy In Love" at the show, with EJ stealing the show easily with his sassy and diva-ish dance moves.
"When you catch the spirit of the holy goddess #otrii #teamthis videocred: @mstinalawson," Johnson captioned the Instagram video.
His fans immediately filled his comment section with praises about his dance moves and his make-up. One user wrote "I am more amazed by his makeup! highlighter on fleek!!!" another added, "This is the only right way to take in a Beyonce concert," and a third one said, "Why be anything else when you can be THIS!"
EJ AND HIS IMPRESSIVE WEIGHT LOSS
EJ is looking better than ever these days with his slimmer figure. Back in 2015, the reality star and fashionista went through a gastric sleeve surgery to lose some pounds, and he went from weighing 360 lbs to losing half of his weight.
Talking to the Daily Mail two years ago, the star revealed how he maintains his slim and toned figure, saying:
"I'm just maintaining at this point. I stay on my work out program I'm very into Pilates I do it four or five times a week. I just eat right and just stay on track."
For EJ, his physical change was so incredible that he couldn't believe he was the same person that the public knew on his first appearance on "Rich Kids of Beverly Hills." "Literally every time I see a picture I'm like ''Who is that person?'' I am not quite sure," he said.
And added:
"I got thrown into my new life so quickly, and I just adapted and this is just me. This is the me I always wanted to be anyway."
EJ is not shy when it comes to showing off his figure in sheer tops, short skirts, dresses and pants, and every other revealing piece of clothing that is out there. Johnson uses fashion to make a statement, and he has become a spokesperson and example to gender fluid people that don't want to conform to society's rules when it comes to gender and clothes.
"I love to express myself, and I do that through clothes. Every day I'm a new person, I'm a new character, and every day I figure out who I want to be as I step out of the house," he said on an E! News panel a few years ago.
Please fill in your e-mail so we can share with you our top stories!