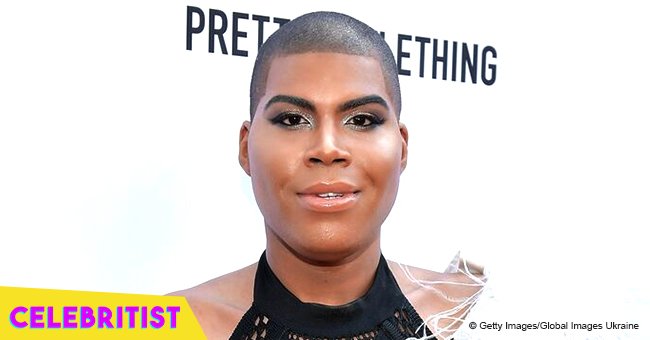 EJ Johnson flaunts curves in Calvin Klein underwear in recent pic after death of close friend

Following the death of his longtime friend Lyric McHenry, EJ Johnson puts on a brave face and a piece of Calvin Klein underwear as life goes on.
A week after the death of his good friend, EJ Johnson was back to his fashionable self. He posed by a pool dressed in a white bra top and denim shorts. The openly gay son of Magic Johnson flaunted his toned arms as he allowed one side of his floral top to fall off his shoulders in a series of images he posted.
EJ knows that his life must go on despite mourning the loss of his dear friend who mysteriously died last week. Lyric McHenry was found dead on a sidewalk in New York City, only partly clothed and with a bag of cocaine by her side. The NYPD believed she died of a drug overdose and also discovered she was 20 weeks pregnant. It was likewise confirmed the 26-year-old had no idea she was expecting at the time of her death.
EJ and Lyric were co-stars of their reality show "Rich Kids of Beverly Hills" and its spinoff, "EJNYC" which Lyric also produced. Earlier this month, the 25-year-old celebrated his late friend's birthday by sharing a photo of them surrounded by friends. In his caption, he referred to Lyric as his "best friend who has strutted with my in princess gowns since day 1." EJ added,
"words cannot express how much I love and appreciate you in my life. Your constant love, respect and companionship gives me the confidence to live my truth every single day and I am so blessed that even as baby divas we recognized the greatness in each other. I love you."
Little did he know then it would be the last time he'd be spending Lyric's birthday.
But EJ is a survivor who will take his friend's death and use it to celebrate life. Just like he did in his latest photo where he showcases his curves in a white Calvin Klein bra top and skimpy denim shorts. The fashionable dresser made sure his toned arms and abs took center stage as he casually removed part of his floral top to reveal them. He completed his summer look donning a pair of sunglasses.
EJ's recent loss may be heightened by the fact that it's difficult for him to find relationships that truly last. In June, he opened up to Jada Pinkett Smith, Willow Smith and Adrienne Banfield in their show "Red Table Talk" revealing his struggle finding genuine relationships. He said dating could be a challenge for him because he isn't sure whether men date him for who he is or who his father is.
EJ went public about his sexuality in 2013 and has since been proudly dressing androgynously. His father has accepted his choices and has been very supportive of him When asked whether he has introduced a guy to his dad, he says it never came to that point because no one became worthy enough to come that far. But EJ hopes one day, he does find the right man to introduce to his family.
Please fill in your e-mail so we can share with you our top stories!