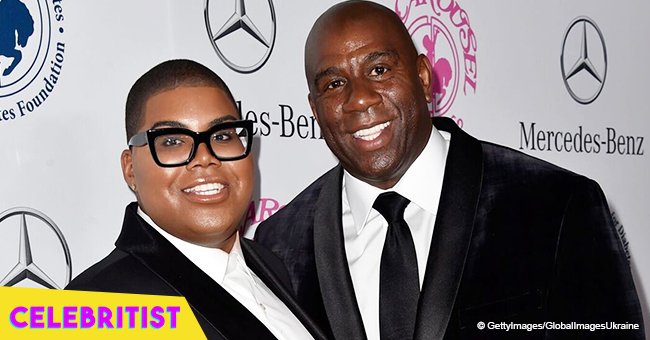 EJ Johnson breaks silence on how his dad affected his relationship with other men
The 26-year-old reality television star has shared why the dating world isn't exactly always kind to him, and it has nothing to do with his sexuality.
While many gays still struggle for acceptance of their lives, EJ Johnson's dating woes don't stem solely from the intolerant masses, but rather from the fame that follows his father, former NBA star Earvin "Magic" Johnson around.
Speaking to Jada Pinkett Smith, Willow Smith, and Adrienne Banfield Norris on Red Table Talk, he revealed that he has always found dating difficult because he's never sure if they're trying to date him or his father.
"These men either just want to be there for one thing and then don't want to stay for the real relationship part, or they just want to ride the wave and be bougie and go out and have their picture taken and do all of that," EJ said.
EJ came out publicly as gay in 2013, and regularly dresses in fabulous dresses with plunging necklines and heels when he steps out.
When asked if he had ever actually introduced a guy he was dating to his father, he answered that he hadn't, but mostly because every time he had been ready to something had happened that had stopped him from making the introduction.
Despite the dating trouble, EJ isn't giving up on finding Mr Right just yet, and regularly hits the town in search of "the one."
EJ first made his reality television debut as one of the Rich Kids of Beverly Hills that ended in 2016. Following that, he was given his own show, EJNYC. That didn't last long however, airing just 6 episodes before being axed.
Today, he co-hosts an MTV after-show for Teen Mom, along with Colin Kaepernick's DJ girlfriend Nessa Diab.
Please fill in your e-mail so we can share with you our top stories!