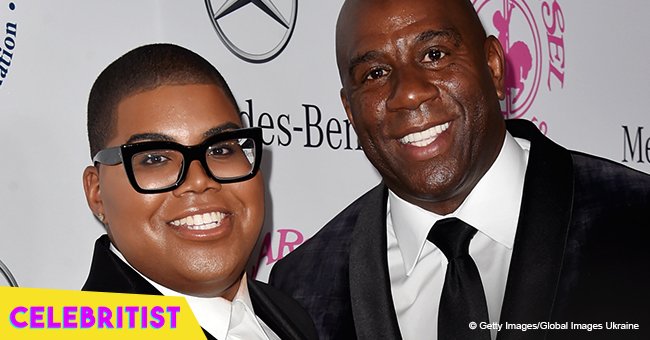 EJ Johnson shares pic with dad Magic & siblings after revealing his coming out story
EJ Johnson, one of the sons of Los Angeles Lakers legend and NBA Hall of Famer Magic Johnson, took to Instagram to share a photo of his family on Father's Day.
In the image, not only EJ but also his siblings Andre and Elisa, and his father Magic were shown. All of them were standing next to five NBA trophies in the Los Angeles Lakers trophy room.
One of the aspects that surprised more people was that EJ, Elisa, and Magic were barefoot while Andre had his shoes on. Elisa chose a yellow dress, EJ put on a black and gold jumpsuit, Magic opted for a blue shirt and black shorts, and Andre wore a grey shirt and black sweatpants.
EJ captioned his post wishing a happy Father's Day to Magic and added that he was a 'constant inspiration and role model' to him and to several people around the world.
Finally, the proud son admitted that he felt blessed to be one of the 'select few' people that call him 'dad.' As soon as he uploaded that photo, his fans and followers took to the comment section to share their thoughts.
One of them was Instagram user Kevin Skilling, who confessed that EJ was a legend. He finished by wishing the entire Johnson family 'nothing but happy vibes.' User @mskandigirl_new_improved was surprised by the photo and admitted that Magic loved all his children unconditionally.
EJ's post was shared only a couple of days after he and Cookie, his mother, went to Jada Pinkett Smith's Facebook Watch show Red Table Talk to recount how EJ first came out of the closet to Magic.
Cookie revealed that the conversation with Magic was 'a little tough' as he reacts quickly by saying the first thing that comes to the top of his head. However, things got better soon after that.
The proud mother also shared how she found out that EJ was more interested in men than in women. When EJ was 15 years old, the family went to Hawaii. Cookie was behind him and a friend and they were looking at people walk in front of them.
When girls in bathing suits walked by, they wouldn't say anything. When boys in shorts walked by, they would say 'Whoa! Hey!' After that, they had 'the talk.' Even though it was difficult for the family in the beginning, all of them support each other a lot no matter what.
Please fill in your e-mail so we can share with you our top stories!