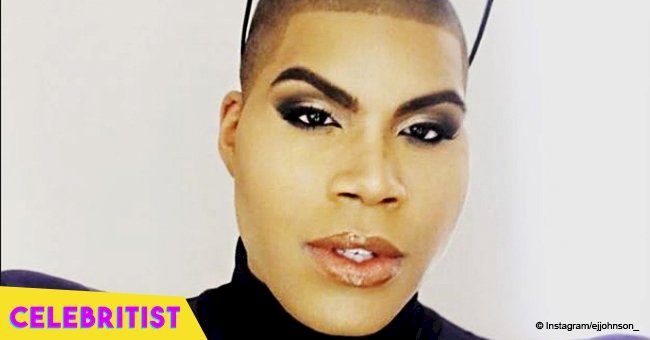 EJ Johnson flaunts his enviable curves in skimpy outfit & high heels after major weight loss

Despite finding it hard to find the right man, EJ Johnson continues to live his best life and flaunt results of his phenomenal weight loss.
In recent photos shared on Instagram, EJ stunned in a grey crop top-and-leggings set. The sleeveless top laid bare EJ's midsection and arms, while the pants clung to enviable curves. The fashion-forward son of basketball legend Magic Johnson chose a pair of black ankle boots to complete his ensemble.
EJ was pictured on the set of MTV's "Total Request Latenight: Teen Mom" After-show where he serves as co-host. In one of the photos, the "Rich Kids of Beverly Hills" Alum wore an animated look as he engaged with guests.
"My face when the tea is hotter than expected," EJ captioned.
About four months ago, the 26-year-old who openly identifies as gay, revealed how difficult it is to find the right partner.
He told Jada Pinkett-Smith on her Facebook series, "Red Table Talk," that most men who came up to him were usually trying to get to his superstar dad.
"It's always been a struggle. There's [sic] so many factors," EJ shared. "First of all, the celebrity thing — who are you here for, are you dating me or are you trying to date my dad?"
The 26-year-old further explained:
"These men either just want to be there for one thing and then don't want to stay for the real relationship part, or they just want to ride the wave and be bougie and go out and have their picture taken and do all of that."
Ever the optimist, EJ has not let that stop him from going about his life and more importantly, flaunting his new improved body.
The former "EJNYC" star underwent gastric sleeve surgery in 2014 and subsequently lost a whopping 180 pounds, about half his previous weight.
EJ confessed to DailyMail in 2016, "Literally every time I see a picture I'm like ''Who is that person?'' I am not quite sure." He also indicated a commitment to maintain his new figure:
"I got thrown into my new life so quickly and I just adapted, and this is just me."
"I'm just maintaining at this point. I stay on my work out program. I'm very into Pilates; I do it four or five times a week. I just eat right and just stay on track."
EJ has a golden tip for anyone trying to sustain their current weight using exercise: "Find a workout that's something you love to do."
Please fill in your e-mail so we can share with you our top stories!