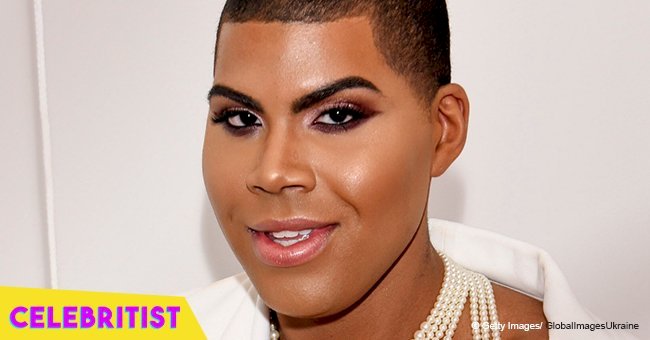 EJ Johnson flaunts slimmer legs in mini dress & high-heeled boots after weight loss in new pic

EJ Johnson, who showed off an amazing 180-pound weight loss back in 2015, took to Instagram again this week to flaunt an even-slimmer figure.
The former "Rich Kids of Beverly Hills" star stood tall in a mini dress styled like a shirt and tube combo. He paired the glamorous number with stylish black boots and dark sunglasses. EJ's outfit fit tightly on his frame, making it impossible not to notice his slimmer body.
The son of basketball legend Magic Johnson first showed off an incredible 180-pound weight loss in 2015 as he attended the New York Fashion Week. As usual, EJ scored high points for style in two daring outfits.
EJ was pictured in a sheer T-shirt tucked into leather shorts and finished off with knee-high stockings and black boots. He was later spotted in a black tank top and thigh-high fringe skirt, showing off his toned legs.
The openly gay TV personality formerly weighed around 360 pounds but lost nearly half of it after a gastric sleeve surgery in 2015. Despite the controversy trailing his decision, EJ had declared:
"The surgery was definitely the best thing that ever happened to me. I never thought that I'd look this good, and that is the God's honest truth."
"It's not really about you. Like, if I wanna look this way, like, deal with it."
Since then, the first son of Cookie and Magic Johnson has been committed to maintaining his new weight. EJ explained to E!:
"For me I just constantly throughout the day I just nibble as opposed to sitting down for large meals."
He also revealed his love for Pilates as a workout choice and said he tries to do it at least four days in a week. Most importantly, however, EJ's priority is on finding a workout that's fun. He stressed:
"Find a workout that's something you love to do. For me it's not even working out it's just having fun. We dance a lot, we sweat, and at the end of it I'm like, 'Wow! I burned all these calories, and I didn't even know because we were just having a blast.'"
Please fill in your e-mail so we can share with you our top stories!