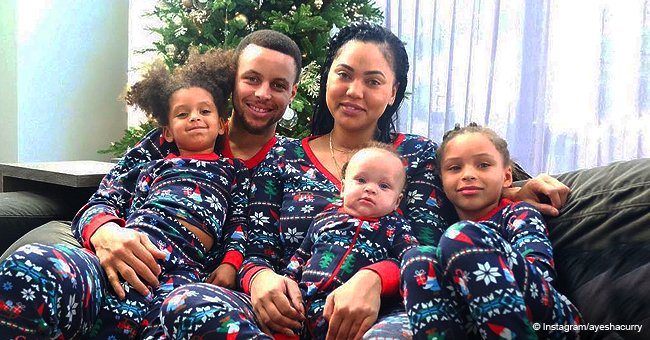 Ayesha Curry poses with her family in all of its 'chaotic glory' in photo for Parents Magazine
Ayesha and Stephen Curry recently posed alongside their three beautiful kids for the cover of Parents magazine, and as a result, they got a series of lovely family portraits.
The cookbook author took a chance to share some of her secrets of running a chaotic household and being a working mom.
Ayesha Curry has a lot on her plate. She's the host and producer of ABC's upcoming show "Family Food Fight," a cookbook author, the creator of a cookware line, owner of two restaurants, a wine line and on top of that, she's a wife and also the mother of three kids under the age of 7.
The 29-year-old is the vivid image of the working mom, and she manages always to look impeccable too. That's why she and her family were recently featured on Parents magazine for their March issue, and the pics are absolutely adorable.
In one of the shots, shared on Instagram, Ayesha wore a yellow hoodie and purple pants while holding her son Canon, 5-months, on her lap.
Stephen, her husband, and NBA superstar, positioned himself behind her as Riley, 6, their eldest daughter, planted a kiss on his cheek. Ryan, 3, chose to sit beside mom with a sweet smile on her face.
"One of my favorite looks and pictures from the @parents shoot!!! Thank you @daymion_ for capturing our family in all of our chaotic glory. I love it," Curry captioned the picture.
Talking to the magazine for the cover story, Ayesha revealed a few secrets to making things work with three kids around the house, starting with basic table rules:
"In our house, you're definitely not getting dessert if you don't eat your dinner."
However, the Food Network star admitted that sometimes they skip the rules and have fun family nights of watching a movie and eating popcorn, ice cream, and then afterward, dinner.
Ayesha and Stephen think it's important that their kids have manners. She explained:
"My kids are young, so they're wiggly worms. I just want them to learn the basics, like, if you burp, say 'Excuse me!' Use your napkin to wipe your hands and your face; don't use your shirt. Simple things like that."
And there's also dinner rules for the parents of the Curry household, even if they break them from time to time. "The toughest one for us to follow is no phones at the table," Ayesha said.
"Of course, there are those moments when the kids do something super cute and you just have to record it. But we really try to implement the no-phones rule. Our kids love being at the table together, talking about their day, singing songs, and telling jokes. It's a special time."
As a foodie and chef, Ayesha wants her kids to enjoy food just as much as her, so she has started to add spices to the baby food to broaden the children's palate.
"I've been very lucky so far because my girls have been willing to try almost everything. Hopefully, Canon won't throw us for a loop!" she joked.
Like many other parents, Ayesha has struggled to get her kids to eat their vegetables, but she discovered that making them involved in the cooking helps.
Ryan, she says, will eat anything. Riley doesn't like mashed potatoes, but they are willing to try anything they have helped their mom prepare.
"I hope that when my kids are adults, they remember that cooking is fun and they aren't intimidated by their kitchen. Food is a love language for me, and I hope it is for them too," Curry concluded.
Please fill in your e-mail so we can share with you our top stories!