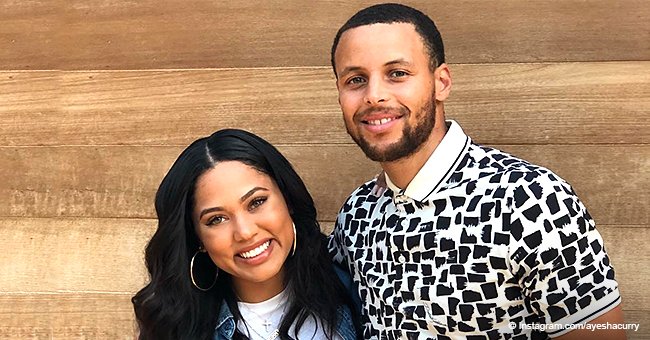 Ayesha Curry gets candid while revealing the secret to strong relationship with husband Steph
Ayesha and Stephen Curry are one of the most loved couples in the entertainment industry. Fans have deemed their marriage as "goals," and now Ayesha has opened about the secrets for keeping the flame of their long-lasting relationship alive.
The famous cookbook author, entrepreneur and TV personality recently talked to HelloGigles about what it takes, from her perspective, to have a successful marriage.
Communication, she said, is critical in keeping their bond strong. Talking about every little thing that could affect the relationship dynamic is necessary, even when they don't want to talk about it. "Even when we don't want to talk about something, we talk about it," she stated. And continued:
"Especially from my perspective, I'm a lay it all out on the table kind of girl, so whether it's a tough conversation or an easy conversation, I never have a tight lip. I tell it like it is and I tell it straight, and ultimately I think it keeps things a lot better for us."
Mutual support has also played a vital role in their marriage, considering that they met as teenagers and have been chasing their respective dreams together for over two decades. However, Ayesha believes the real piece of advice that has helped their marriage came from her and Stephen's parents and is not a conventional one.
"The one thing that they both shared with us—some through learning it the hard way, some through just making sure that they do it—is just making sure that we put each other first, even before the kids, as tough as that sounds," she stated.
By putting their relationship first, Ayesha and Stephen make sure to give their kids a happy and safe home where they can thrive and be happy. Ultimately, it's all about setting a good family example for the kids. "We have to put that into perspective and realize that it's not us being selfish, it's making sure we set a strong foundation," she added.
"Putting ourselves first, and making sure that we make time for date nights and for each other. That's been very important, as hard as it is. Because when you become a parent, you want to put your kids first, and we do, but we do it second to our relationship."
TEN YEARS LATER
Ayesha and Stephen first met in church when she was in high school and not allowed to date boys, then, they reconnected when she was 19, and he was at the top on his game in college. They got married in 2011 and are now the parents of three kids: daughters Riley, 6, and Ryan, 3, and son Canon, 6-months.
Curry recently took to Instagram to join the latest social media trend, the #10YearsChallenge, by posting a side to side pic of her and Stephen back in 2008 with a more recent pic.
The throwback pic shows Ayesha and Stephen three years before getting married and with no children in their plans yet. "#10yrchallenge 08-18 ... my babbbbby," Ayesha captioned the adorable post, which shows an amazing evolution not only in the couple's looks but in their bright smiles too.
Please fill in your e-mail so we can share with you our top stories!