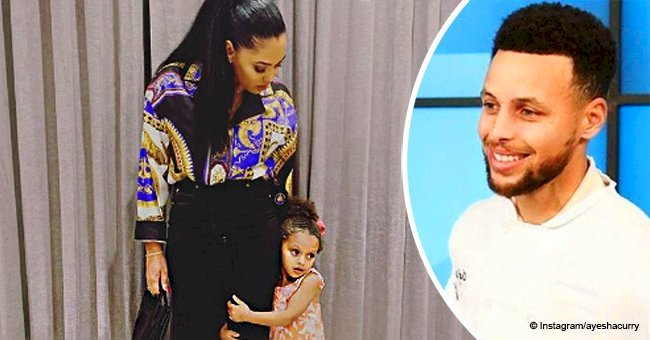 Steph & Ayesha Curry's daughter says 'no date night' while adorably clinging to mom's leg in pic
Steph and Ayesha Curry may have three children already, but the couple remains committed to keeping the spark alive. Unfortunately, there's one person who isn't on board with that plan.
Ayesha took to Instagram on Wednesday to show off her date night outfit. According to details dished out by BET, the celebrity cook 's Versace silk blue-and-gold printed blouse cost $1,150. She paired it with black high-waist jeans and matching Versace studded sandals that go for $995. Ayesha's long tresses were pulled back in a high ponytail, and she had a black bag to go with the ensemble.
As impressive as her outfit was, the highlight of the picture stood beside Ayesha, clutching her legs. Three-year-old Ryan Curry, in a long floral dress, didn't look too happy that her mom was heading out.
"My Ryan says NO date night LOL. I almost stayed home," Ayesha, 29, wrote.
Considering how hands-on the Currys are with their kids, it's no surprise Ryan doesn't want to be left out of the fun night. Even before Ryan was born, Steph and Ayesha's first child, daughter Riley, went almost everywhere with the Golden Warriors Point-Guard. She went on to gain international stardom thanks to her antics at many basketball press conferences.
Ryan, though equally adorable, appears not to like the paparazzi so much. For her 2nd birthday, Steph shared a photo of the toddler in her stroller, shielding her face from cameras. The 30-year-old dad's caption confirmed it.
"'I'm sorry daddy. No pics on the bday for me please. Just let me live!' -Baby Ryan!"
Doting mama, Ayesha could not stop at one for her daughter's "Big 2" so she posted six snapshots of Ryan, alongside a beautiful message:
"Happy 2nd birthday my beautiful baby girl Ryan. I love you so much. Your vibrant, content and hilarious personality is contagious. I just want to cuddle you forever and ever. My chookas. I can't take how quickly the past two years have gone by. Not enough time in a day."
Steph's younger sister, Sydel, also got in on the fun with a dancing video of her and Ryan. Vibing to the Kidz Bop version of "Uptown Funk" by Mark Ronson and Bruno Mars, Sydel confessed her admiration for Ryan's "literal taste for life."
More than a year later, Ryan would join her big sister as flower girls walking down the aisle with Sydel as she married pro basketball player, Damion Lee. The girls looked adorable in their white dresses and even posed with Steph.
The NBA star and his wife have since welcomed a son, Canon, but it looks like the girls will always hold a special spot in their hearts.
Please fill in your e-mail so we can share with you our top stories!