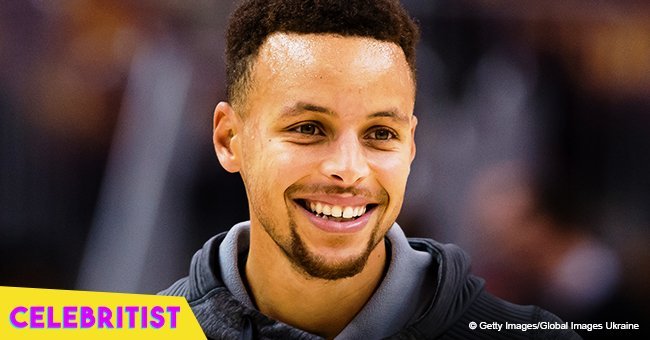 Stephen Curry shares picture with his adorable daughters dressed in white princess dresses

NBA champion, Stephen Curry is one proud papa! The devoted family man recently shared a picture-perfect moment on camera with his two daughters in their princess costumes.
Stephen was pictured with his two girls, Riley, 6, and Ryan, 3, who looked angelic in their white princess dresses. The Warriors Point Guard looked equally dapper in a black Tuxedo and a matching bowtie.
The love between father and daughters could be seen from their relaxed poses. Riley, who is already as much of a celebrity as her famous parents, laid her head affectionately on her daddy's lap while Ryan leaned against his arm.
Stephen's caption revealed the girls had just completed their flower girl duties:
"You know we too cute to have to sit and listen to anything you say right?" #flowergirls #theydidit"
Riley and Ryan were flower girls at the wedding of Stephen's sister, Sydel. The basketball star and his wife Ayesha Curry had earlier given Sydel an exceptional wedding gift.
In a video message, the couple informed Sydel that the women's volleyball locker room at her alma mater, Elon University, would now be named after her. Stephen, 30, said:
"Just want to say congratulations on getting married this weekend, that's a big occasion, I know it's crazy. But we also want to congratulate you on an amazing career at Elon playing volleyball, all you did for the school and the program, and wanted to give it back to you with the new locker room for Sydel Curry."
The other Curry brother, Seth, was also in on the surprise as he appeared in the video to congratulate Sydel on the honor.
The surprised bride-to-be was moved to tears as the clip played during a volleyball game she was watching at the school. Sydel, 23, later wrote on Instagram:
"What started out to be a trip to support @elonvb ended up becoming one of the most memorable evenings of my life. I can't begin to explain how grateful I am to my siblings for this amazing gift!"
Sydel tied the knot with her husband, pro basketball player Damion Lee, on Sunday.
Meanwhile, in another hilarious, yet heartwarming video shared by Ayesha, Riley corrected her mother who called her "daddy's little helper." The six-year-old confidently declared, "I'm the assistant, and I'm the boss."
Please fill in your e-mail so we can share with you our top stories!