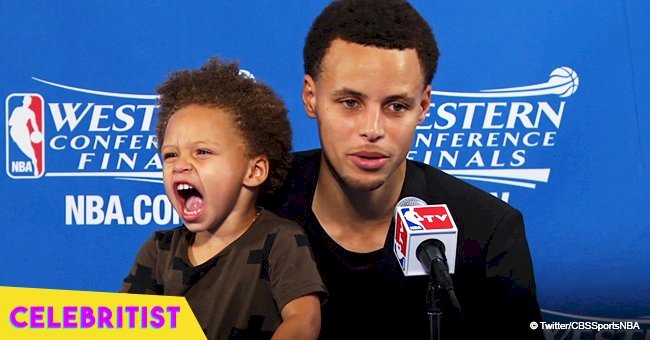 Remembering when Steph Curry's daughter Riley stole the show at her father's press conference
Steph Curry's daughter, Riley Curry shot to fame in 2015 when she stole the show at a basketball press conference. Three years later, the adorable video is still making waves, and Riley herself knows more about basketball now.
In May 2015, Riley accompanied Steph to a post-game press conference where he fielded questions from reporters. Riley, two years old at the time, ended up becoming the star of that event with her hilarious antics.
The toddler came up to her father on the podium and insisted "I want to sit on your lap." Looking cute in a brown outfit and headband, Riley proceeded to steal the spotlight with her intermittent giggles and gestures.
The little girl didn't appear to care for her father's professional duties, either, because she kept up small talk with him throughout the conference. At certain points, she waved at reporters, yawned loudly, and ducked behind the table.
Not too long after that conference, Riley reprised her unofficial role as "belle of the ball" in another interview. This time, the Golden State Warriors point guard had a tough time keeping a straight face.
Riley was on a roll, insisting on a game of hide-and-seek and even singing "Blessings" by Drake and Big Sean. She caught the attention of the Canadian rapper who shared her clip with his Instagram followers. And wonder of all wonders, the energetic tot told her dad to "be quiet" at his press conference!
Riley's innocence and playfulness made her an instant hit with fans, and she soon had her devoted fan base.
In August this year, Steph revealed that Riley, who has since become a big sister-of-two, now knows more about basketball than crashing post-game press conferences.
In an August 27 essay about his first child, Steph noted that six-year-old Riley wanted to become "a basketball player cook," an ingenious merger of her father's career, and that of her mother, Ayesha.
The 30-year-old, who recently organized a basketball camp for girls and continues to champion gender equality, further noted:
"Now I won't lie: The last time we asked, it was between 'makeup artist' and 'horseback rider' — so who really knows with this one. And I'm not going to pretend we have the logistics all figured out, either. Is she going to put out the cookbook first, and then start hooping? Or is she going to hoop first, and then turn to building her restaurant empire? Either way, though, the skills are there. She's dribbling 100 times in a row now, continuously — and we're working on getting the left hand up to par."
Meanwhile, Steph and Ayesha are also parents to three-year-old daughter Ryan, and two-month-old son, Canon.
Please fill in your e-mail so we can share with you our top stories!