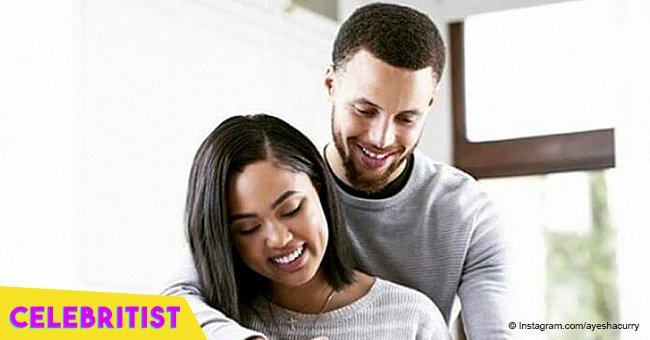 Ayesha and Stephen Curry rock matching outfits in recent picture with their 3 adorable children
The Curry family has become an example of what a happy marriage looks like, and their most recent family portrait has fans melting over their cuteness.
Ayesha and Stephen welcomed their third child two months ago and recently celebrated seven years of marital bliss.
Ayesha is one proud mom and does not shy away from showing off her love for the family.
In her most recent Instagram post, the cookbook author revealed the nicknames she has for every member of her family, proving that they're the center of her universe
In the photo, Stephen and Ayesha are rocking matching outfits, wearing basketball t-shirts and shorts while their daughter Riley is donning a white t-shirt with khaki pants.
Her sister Ryan is in a black dress and the newest addition to the family, Canon, is resting peacefully on his carrier.
"My [earth,] My [star,] My [moon,] My [sun,]... all of it! I love my squad. Can't believe we're parents of 3," Ayesha captioned the picture.
Fans of the royal basketball couple immediately took to her comment section to praise Ayesha's beautiful family. One Instagram user wrote:
"The face of NBA family @stephencurry30 @ayeshacurry - NBA players should emulate your family culture - very privileged and yet so unassuming and humble."
Another user said it was a lovely photo of her "favorite basketball player and his beautiful family, while Skyla Parker added:
"Too cute!! For a second I thought it was a baby doll in the carrier. Adorable family."
Ayesha and Stephen welcomed baby boy Canon back in July, and the 29-year-old was very open about the struggles of her third pregnancy.
She mentioned in a post back in February that she was suffering from a condition called Hyperemesis, explaining that she experiences nauseousness and cannot sleep. She said:
"This basically means the nausea, incessant sickness and exhaustion probably won't go away."
TEN YEARS TOGETHER
However, Ayesha had the support of her lovely husband and Golden State Warrior player all the way.
The couple recently celebrated ten years of making their relationship official and seven of being husband and wife.
They celebrated by writing the sweetest messages for each other on Instagram with Ayesha sharing a throwback picture of their young selves, back when they started dating.
She explained:
"Can't believe my babe and I have been loving each other for a DECADE! Feels like yesterday. This is the day we made it official! 10 yrs to the day. I love you [Stephen Curry] !!! Yung Eesh:19 Yung Chooch:20."
Stephen on the other hand, shared a gorgeous pic of his smiling wife and he gushed about her on the caption writing:
"Happy 7th Anniversary baby! Just yesterday- We looked at each other in awe of the many blessings God has granted us! And the sacrifices you make on a daily to make us go are forever noticed and appreciated."
Ayesha and Stephen are couple goals and unlike many other basketball wives, Ayesha is determined to keep her family together for a long time, making their faith and love for each other the basis for their success.
Please fill in your e-mail so we can share with you our top stories!