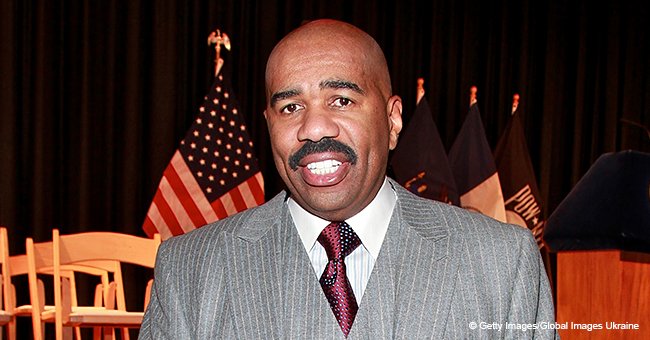 Steve Harvey shaves off beard, returns to his signature mustache thanks to wife Marjorie

Steve Harvey says goodbye to his beard and hello to his black mustache in a new photo revealing his revived look.
The beard is gone.
Steve Harvey announced he's back as he reveals a clean-shaven face. He finally got rid of his salt and pepper beard which fans have become accustomed to for quite some time.
The comedian who grew his beard over the summer during his European vacation with his wife Marjorie Harvey has finally shaven it off leaving only his trademark black mustache.
"Guess who's back," the "Steve" host wrote to caption a photo of him and his wife cruising down the road revealing a clean shaven face.
The same pic was shared by Marjorie on her own Instagram account as she claims it was her idea for her husband to ditch the beard.
"I had him shave. I love it both ways," she wrote.
Fans were conflicted in the comments section. Some thanked Marjorie for the move but others mourned the loss of the sexy beard.
"You honestly killed the beard look Steve. It will be missed."
"The beard was sexy and distinguished. Loved the salt and pepper look on him. He said the beard was your Idea and it was a good one."
"Thank you Majorie. I don't know why he wanna look like old bum."
Steve debuted his beard in August and explained on his show that it was his wife's idea. During an interview on "Ellen" in December, he explained how the idea came about.
"I was on vacation, and I actually left my Just For Men at home because I had been dying my mustache, you know, black. So I left it at home … So I didn't dye it. So the rest of it started growing in. Next thing I knew, I went, 'Damn! This either going to be sexy or I'm ugly as hell — one of the two.'"
With his wife's approval, he said he decided to keep the look that way for a while until his wife decides she didn't want it anymore.
Now it looks like Marjorie got tired of the look as Steve is now a clean-shaven man. We agree with Marjorie, though. He does look good either way.
Please fill in your e-mail so we can share with you our top stories!