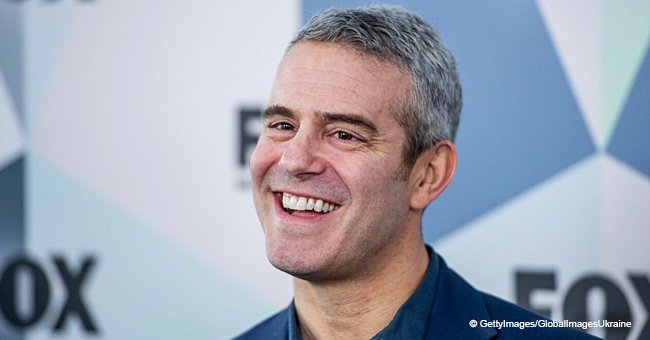 Andy Cohen shares first photos of his newborn son's full head of hair

Andy Cohen's posts boastful photos of his son Benjamin's great head of hair.
Emmy-winning reality television producer, New York Times best-selling author, and talk show Andy Cohen has welcomed first child on February 4, 2019.
The proud daddy has been posting photos of his cute son, Benjamin Allen Cohen and sharing his happiness at becoming a father at 50.
"I had been hoping [my son] would have a full head of hair, and he really overdelivered."
COHEN'S FIRST SIGHT OF BENJAMIN WAS HIS MOP OF THICK HAIR
Cohen revealed that what he first noticed about his son after his birth was the baby's thick mop of dark hair.
Cohen cut Benjamin's umbilical cord himself, then waited while the doctors cleaned the baby and placed him in his arms for the first time.
At just 10 days old, Benjamin featured on his first magazine cover for People.
BENJAMIN WAS BORN VIA A SURROGATE
Cohen, who is gay, decided to become a father and chose surrogacy. The celebrity announced that he was becoming a father in December 2018, on a live show.
"I worked with an incredible surrogate. She was in California. Surrogacy is illegal in so many states, including New York. I don't understand why. It's a voluntary process, obviously. My surrogate just viewed it as, she was giving me the ultimate gift. She gave me life. So I'll be forever indebted to her."
COHEN'S WONDER AT BECOMING A FATHER
Andy Cohen has revealed that Benjamin's birth was the most incredible experience of his life, and one he had thought he would never have.
Cohen named his tiny son after his grandfather Ben Allen, and described him as his future, and a priceless gift.
BENJAMIN'S FIRST MAGAZINE COVER
At just 10 days old, Benjamin featured on his first magazine cover for People. He seems set for stardom and his proud father shared the details of his birth:
"He was so alert for the first two hours, he never fell asleep and his eyes were wide open. And he was quiet, he didn't cry, he was just calm and I just ... it was amazing."
We wish Andy and Benjamin all the best and all the happiness in the world.
ANDY COHEN'S BIG ANNOUNCEMENT
On February 4, Andy Cohen announced the birth of his first child, Benjamin Allen Cohen.
"WOW! This is my son. Benjamin Allen Cohen. He is 9 lbs 2 ounces !! 20 inches !! Born at 6:35 pm, PT."
The talk show host gushed that he was "in love" and thanked the surrogate who gave him the opportunity of becoming a father.
The celebrity had announced his incipient fatherhood on a live show in December 2018, where he left his audience and guests gaping in amazement:
"After many years of careful deliberation, fair amount of prayers and the benefit of science, if all goes according to plan, in about six weeks time, I'm going to become a father thanks to a wonderful surrogate who is carrying my future."
On New Year's Eve, Cohen revealed to CNN's Anderson Cooper that he was expecting a boy.
In a related story, Andy Cohen shared a precious photo of his newborn son Benjamin in a cute outfit.
Please fill in your e-mail so we can share with you our top stories!