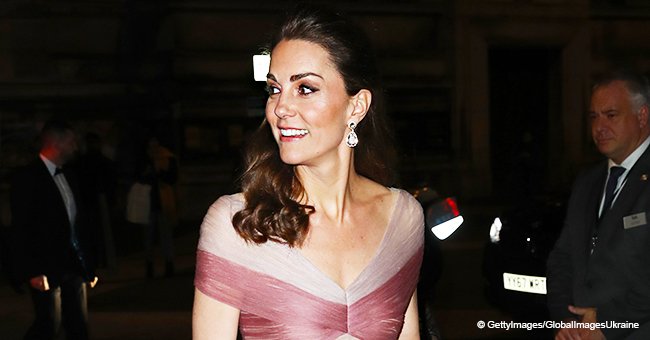 Kate Middleton looks like a real Disney princess on an outing in a magnificent pale pink dress
The Duchess of Cambridge looked like she stepped out of a fairytale when she delivered a speech on children's mental health at a gala.
Kate Middleton looked gorgeous in pink when she arrived at the Victoria and Albert Museum for the gala after attending a private reception beforehand.
The floor-length Gucci gown in cream and different shades of pink fitted Kate like a dreamy glove. The Duchess rounded off the look with silver Oscar de la Renta heels and a raspberry Prada clutch. With half her hair tied back, it showed off the statement earrings Kate wore and complimented her outfit perfectly.
The Duchess joined senior women from the financial industry at the V&A, of which Kate is a patron. Dr. Tristram Hunt, Director of the V&A and the Vice Lord Lieutenant of Greater London, Colonel Jane Davis welcomed Kate to the gala event.
The gala also serves as an opportunity for 100 Women in Finance to honor women leading the way in the financial sector. Previously known as 100 Women in Hedge Funds, this leading non-profit for professionals is the go-to in the alternative investments industry.
The 37-year-old Duchess also spoke with Amanda Pullinger, 100WF's CEO, and Lauren Malafronte, Chair of it's Global Association Board, and said, "This time last year I was still pregnant!"
The 100WF board of directors selects a beneficiary for its outstanding initiatives each year and includes education programmes, family health, women's health, and mentoring.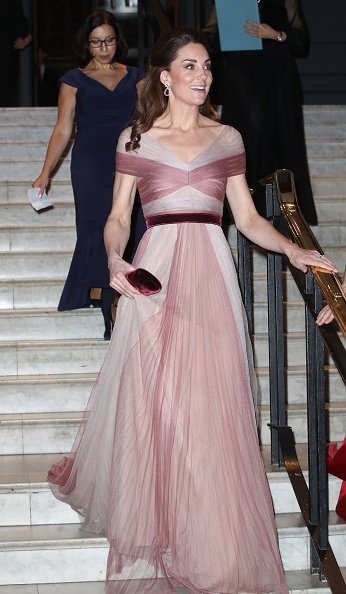 The Duchess Of Cambridge attends the 100 Women In Finance Gala Dinner at the Victoria and Albert Museum on February 13, 2019, in London, England.| Photo: Getty Images
Kate, along with husband Prince William and Prince Harry are patrons of 100 Women in Finance's Philanthropic Initiatives. They attended three previous gala's which the non-profit held in aid of charities the three royals align with.
During the gala, the Director of the London School of Economics and Political Science, Dame Minouche Shafik got honored and presented with the 100 Women in Finance 2018 European Industry Leadership Award.
Funds raised from the gala will go towards "Mentally Healthy Schools." It is a program that Kate, Harry, and William launched through their mental health charity "Heads Together."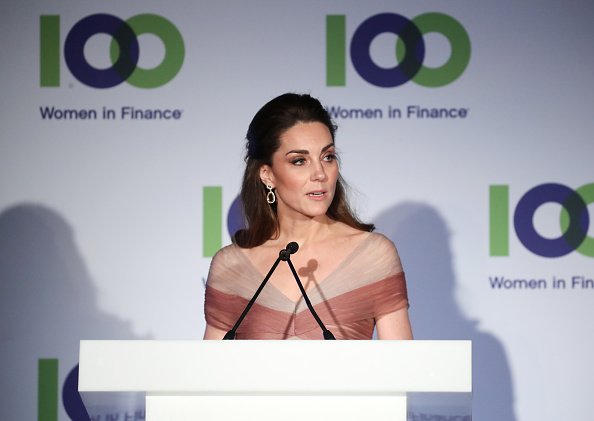 The Duchess Of Cambridge delivers a speech at the 100 Women In Finance Gala Dinner at the Victoria and Albert Museum on February 13, 2019, in London, England.| Photo: Getty Images
Earlier during the day, Kate attended the Mental Health in Education conference. Held at the Mercers' Hall in East London and hosted by The Royal Foundation. Kate Silverton, presenter and broadcaster of the event, introduced Kate and said:
"'As you all know (she) has been a great driving force behind much of the royal foundation supporting children in their earliest years. Your Royal Highness, it's an absolute honor to have you with us here today, thank you for all the work that you are doing in this field."
The Duchess then delivered a speech wherein she called for more support for children and teachers as she said in part:
"It is also clear that the positive development of our children is directly linked to those who care for them, teachers, carers and parents. And as we have heard today, it is therefore vital that we support teachers with their own wellbeing so that they can find the best level of care for all children, in their schools and communities in which they work."
The stunning gown Kate wore just bore more testament to how the Duchess' wardrobe changed since her return from maternity leave in October. According to experts, there is a good reason.
Please fill in your e-mail so we can share with you our top stories!