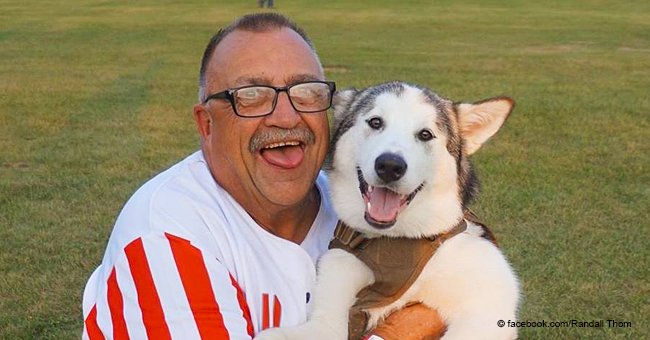 Dog named Donald Trump was shot by a neighbor, sheriff claims it's not a political issue

Randall Thom's dog; Donald Trump was shot four times by a neighbor in Minnesota. Contrary to what social media is speculating, a sheriff has cleared the air by saying it was not a political issue.
Thom posted the sad news on his Facebook page alongside a picture of the dead dog, with the comment:
"having to say goodbye to my best friend, Donald Trump. He was shot by a neighbor four times, and then he never checked if he was actually dead. When I found him about midlife in a cornfield, he was actually still warm. The bastard let Donald suffer for over 14 hours. Please just pray for my sanity. I LOVED YOU SO MUCH DONALD".
The Jackson County Sheriff's Office has revealed that the tragic incident had no political inclination despite social media's false preaching that it does. According to the media, the killing was based on political rivalry- which has incited violent threats against residents.
The person who shot the dog was legally protecting his livestock on private property, although the perpetrator has not been identified or found.
In the statement released by the sheriff's office,
"Facts have been misinterpreted on social media sites. Unfortunately, people are now posting multiple threats of violence towards citizens in the area and justifying the threats based on this inaccurate posts on social media."
The dog owner, Randall Thom is a devoted supporter of Donald Trump; he has been interviewed and featured in stories for frequenting the president's rallies. One of the theories is that a neighbor who is a Democrat killed Randall's dog intentionally.
But according to Minnesota court records, Randall had been convicted of dogs and cats at large in 2015, also, all together neighbors have filed 14 complaints of Randall's dog running free, killing animals and even attacking random people.
Even though there are reckless pet owners, we also have the cautious ones, who take time to ensure that their adorable pets cause no harm to anyone or thing. It is not uncommon to find people lodge complaints, especially when dog owners leave these animals to roam freely.
A dog owner, Grace Robertshaw was sad after she found a note on her car, the letter read:
"put your dog on a lead, slag! Your dog is naughty and your and irresponsible owner".
After reading the letter, Grace was distraught and confused. She further stated that:
"my dog is a puppy, and I pride myself on being a very responsible owner, never let him off unless I know it's safe, always pick mess up and just upset and confused as to why someone would do it."
Grace was, however, lovingly advised by pet lovers on social media who told her to ignore the inappropriate letter.
Please fill in your e-mail so we can share with you our top stories!