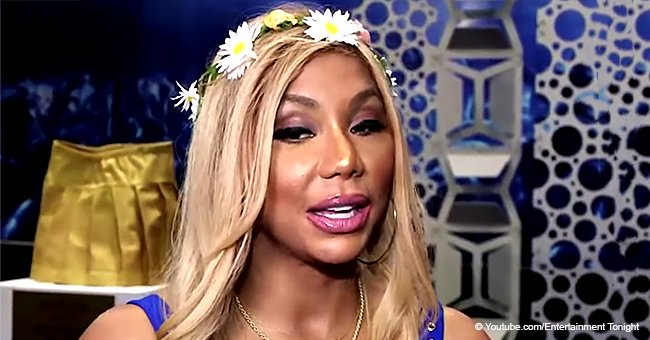 Tamar Braxton hopes to be 'the Cardi B of TV' after winning 'Celebrity Big Brother'

"Celebrity Big Brother" winner, Tamar Braxton wants to become "the Cardi B of TV." She's hoping the win will be the boost she needs.
Tamar Braxton spent 30 days conspiring, friendship-building, scheming and trying to win bizarre Head of Household competitions while vying for the win in "Celebrity Big Brother." She eventually emerged this season's champion.
The reality star revealed the experience is "a big dream come true." During a chat with ET's Brice Sander after she bagged her win, Braxton revealed her feelings since the win and her future aspirations.
"It's a blessing on top of a blessing, and it means that my friendships in the house are really real," exclaimed Braxton. "I'm grateful for that too."
With the win under her belt, the singer says she feels more motivated to focus on her music and recording new songs. She went on to reveal her stay in the house was the longest time she lived without singing.
"This is the longest that I've gone without singing!" Braxton shared. "It's been like 30 days! And with Joey [Lawrence] being in the house -- and he's a whole boy band by himself -- it's definitely inspired me to keep writing and keep moving forward with my music career."
Braxton's last studio album was "Bluebird of Happiness" and came out in September 2017. She said she doesn't know whether or not she'll be recording a full album soon.
She feels that "the music industry has changed a whole lot." She also added that fans should "definitely [expect] some new music, for sure."
Braxton also spoke about her other career as a reality star. alongside her sisters on the WeTV series "Braxton Family Values." She said she's excited to return to the show and she hinted at big plans for the future.
"There's a couple things going on with Tamar," she said, referring to herself in the third person, with a laugh. "My hope is to be the Cardi B of TV!"
Besides her career, she's also excited to see her boyfriend and son, Logan, for the first time in a month. She's definitely looking forward to alone time with her new beau.
"I hope so! It's been 30 days. He's not in the business, so he's probably tired of my shenanigans by now," said Braxton. "But I feel like we have something really, really special. He's a great guy and my son really likes him a whole lot."
Please fill in your e-mail so we can share with you our top stories!