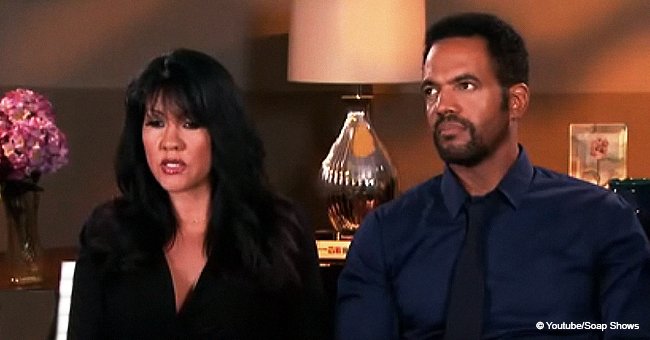 Kristoff St. John was drinking and claimed to see late son before his death, ex-wife reveals

"Julian is going to take me for a walk": Ex-wife of Kristoff St. John says he saw his dead son moments before his death. She also claims he was severely depressed and drinking.
Kristoff St John reportedly told his ex-wife Mia that their son Julian had come to visit. He claimed Julian, who died four years earlier, was taking him for a walk.
Mere hours later he was found dead. Julian St John took his life at the age of 24 in 2014 after struggling with mental illness for most of his life.
"He was just so depressed. He was drinking and just saying, like, nonsense - that he didn't want to be here anymore," said Mia in an interview with ET.
During an interview with ET, Mia recalled her final conversation with the Young and the Restless star. She opened up about the mental health conditions that Kristoff and Julian suffered from.
Mia St John revealed that she spoke with her ex-husband before he was found dead. Kristoff was found by members of the Los Angeles Police Department after they were sent to his home for a welfare check.
Mia said St John said that he was being visited by their son Julian who wanted to go for a walk. She went on to say it was the last conversation they had before he died.
It was also announced earlier this week that St John will be laid to rest next to his son who died four years before his father. According to his ex, St John had been behaving bizarrely for a while before his death.
"He called me at 11 a.m. and the first thing he said was, "Mia, thank God you answered,"' said his ex-wife. "He was just so depressed. He was drinking and just saying, like, nonsense - that he didn't want to be here anymore."
"He said, 'Julian is at the door I gotta get the door,"' continued Mia. "[He] said, 'Okay, let's talk to Julian, bring Julian in.' Julian came in and he said, 'Julian is gonna take me for a walk now' and I said, 'No you aren't going for a walk right now.'"
Mia went on to reveal that it had been too late for him by that point and they didn't get to speak again. However, St John apparently left her a final text message that she received after his death.
In the text he wrote, "Understand, you've got to live in the present observe all the good things in your life and others around you. Julian would not want you to live your life with bitterness and upset, it eats away with you and drains your life slowly but surely. You must rise to the occasion and accept the beauty around you. I believe in you."
She went on to explain that the entire ordeal has opened old wounds for her.
"When Julian passed, he died of a broken heart," said Mia. "These mental health issues are real. Kristoff suffered from bipolar, our son had schizophrenia and I just felt like it was so hard for people to pay attention. That was the only thing. When he told me that Julian came to the door and I knew that my son came and took him home. And that was my only comfort."
Please fill in your e-mail so we can share with you our top stories!