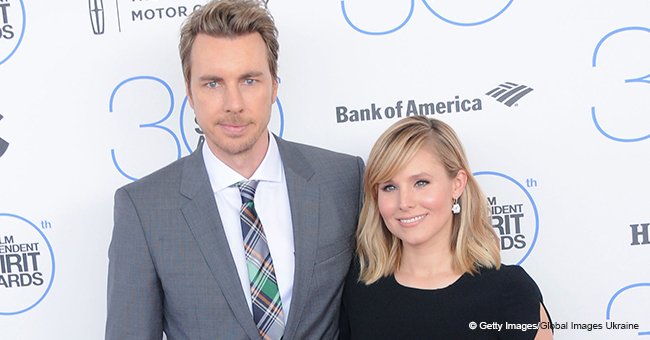 Actress Kristen Bell reveals she once 'breastfed' her husband
For an episode of the web series "Momsplaining" on EllenTube, actress Kristen Bell opened up about her breastfeeding journey. She had a chat with new mother Katie Lowes about some of her own uncomfortable experiences.
During the show, she confessed that she'd once asked her husband to breastfeed in order to relieve mastitis.
In the fourth episode of the web series "Momsplaining," Kristen Bell, 37, spoke to Katie Lowes about all the things that had to do with motherhood. The pair talked candidly about "freeing the nipple" and how babies latch for breastfeeding.
They also discussed the taste of breast milk and Lowes got to taste her own breast milk for the first time. She described it as sweet.
Then the two women opened up about mastitis. Bell, a mother of two, revealed that she had it occur three times different times.
Mastitis is a deadly infection of the breast tissue that can spread to the bloodstream. It happens when a breastfeeding mother's milk ducts are blocked.
The actress described her experiences as "the worst," and shared that she had to be put on antibiotics twice. However, when the third time came about, she and her husband, Dax Shepard, 43, were in Atlanta and couldn't call a doctor to unblock her milk duct.
At the time, her baby had also stopped nursing, and she was desperate to get relief. To Lowes shock, Bell confessed that she asked Shepard to breastfeed.
On the show she recalled:
"I said to my husband, 'I really need you to suck this out. We could talk about it, we could be weird about it, or you could just go ahead and nurse.'"
Soon afterward, her loving husband, "He pulled it out. He had a cup next to him. He was pulling out and spitting into this cup, and I've never been more in love in my life."
On October 6, last year, Bell held a Reddit Ask Me Anything thread to promote her show "The Good Place." One fan, who knows she has an obsession with sloths, asked her: "How do you feel about koalas? They are quite similar to the sloth."
The actress responded: "Koalas get high off eucalyptus and most of them have chlamydia. These are facts." More of the thread can be found here.
Please fill in your e-mail so we can share with you our top stories!