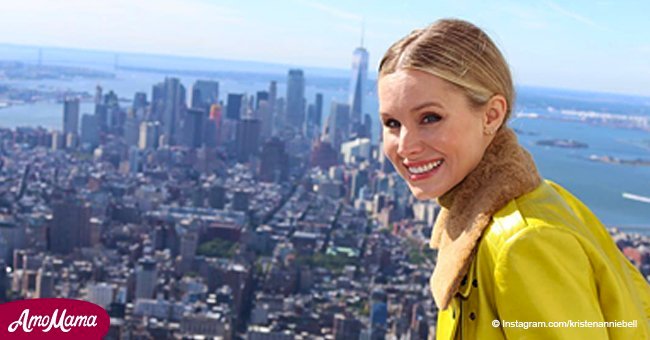 Kristen Bell is concerned about the message kids get from Disney Princesses
Kristen Bell claimed the Disney classic "Snow White" sends the wrong message about consent. Online, she received negative reactions to her politicization of the 80-year-old story.
According to the Daily Mail, Bell spoke exclusively with Parenting Magazine about the story. She focused in on accepting gifts from strangers.
The 38-year-old actress has two girls: Delta, 3, and Lincoln, 5. She explained, "[story time] is truly my favorite part of the day."
Follow us on Twitter for more @amomama.
While she and her kids are "all cuddled up like meerkats," Bell reads to them. But the "lessons" the stories give are, in Bell's opinion, questionable.
"Every time we close Snow White, I look at my girls and ask, 'Don't you think it's weird that Snow White didn't ask the old witch why she needed to eat the apple? Or where she got that apple?' "
She added:
"I would never take food from a stranger, would you?"
When the girls give a confident "No!" Bell feels good she's "doing something right."
Bell, who voiced Queen Anna in the hit children's movie "Frozen," also questions her girls about something else.
"Don't you think that it's weird that the prince kisses Snow White without her permission?"
She continued:
"Because you can not kiss someone if they're sleeping!"
Online, netizens trolled Bell for giving the age-old story a "MeToo" twist.
In the interview, Bell expressed her appreciation for a book called "Grumpy Monkey."
The story concedes that it's OK for persons to be grumpy, even after trying to fix their problems.
Bell explained:
"I've had that feeling, and I want my girls to know that you're allowed to feel it. Figure out ways to pick yourself up when you are ready. I really like that message."
While Bell is doing her best to support her children, her mother also supports her.
Bell's mother, Lorelei, surprised the actress during an interview on the Ellen show. She sat in the audience quietly until her daughter noticed her. She asked: "Wait a minute, is that my mom?"
She asked her mom "how do you think I'm doing?" referring to her hosting skills.
Bell's mother hilariously responded that at least some audience members were enjoying her segment.
Bell sarcastically thanked her for the "support" and carried on with the interview.
She is set to voice Queen Anna again on the upcoming "Frozen 2" releasing in November 2019.
Meanwhile, fans can tune in to her EllenTube series titled "Momsplaining" to hear more of the actress' views.
Please fill in your e-mail so we can share with you our top stories!