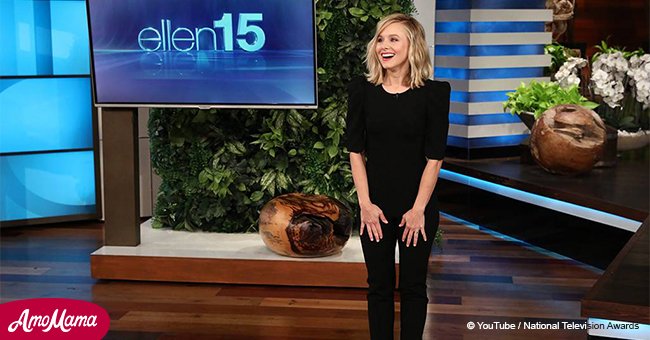 Kristen Bell's mom suddenly appeared on 'The Ellen DeGeneres Show'
The 37-year-old Kristen Bell is most famously known for her portrayal of Veronica Mars in the early 2000's. She is also the voice of Princess Anna in Frozen.
On Thursday, Bell guest-hosted an episode of The Ellen Degeneres show. She said Ellen was on vacation but then joked that her off days usually fall on the same day as the monthly staff drug tests.
Bell continued by saying she had never hosted a talk show before, but she is a somewhat familiar with how it works, thanks to her roles in The Good Place, Frozen, and Bad Moms.
She then went on to answer questions from the audience which almost turned into a disaster. Most questions were about the animated character Elsa's sexual orientation.
Bell said she really doesn't know, it is up to the writers of the film, and then added that it is "actually really up to Elsa because it's her body, her choice."
After taking a few more questions about Disney characters, Else and Ellen, Bell was surprised to see her mother in the audience.
"Wait a minute, is that my mom?" she asked. Lorelei Bell stood up to the sound of applause while Bell whispered: "Mom, how do you think I'm doing?"
Lorelei answered that some of the people in the audience were at least enjoying her segment. Bell was somewhat taken aback by the answer and thanked her mother for the "support."
Apart from the upcoming Frozen 2, in which Bell reprises the role of Princess Anna, fans can also follow her series on EllenTube, titled Momsplaining.
Three of her films - Like Father, Ralph Breaks the Internet, and Teen Titans Go - is currently in post-production and will be released later this year.
Please fill in your e-mail so we can share with you our top stories!