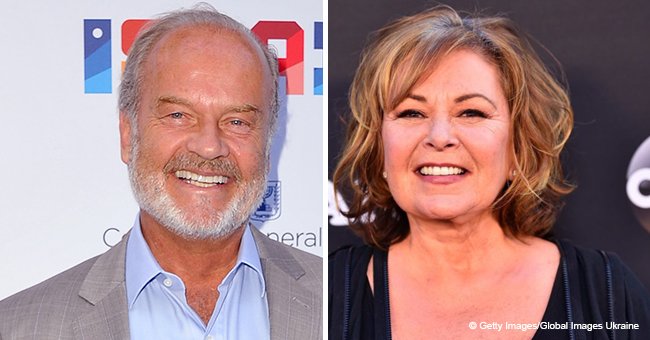 'Fraiser' star Kelsey Grammer says Roseanne Barr should be forgiven for posting a racist tweet

Fictional psychiatrist Dr "Frazier" believes that Roseanne Barr should be forgiven for her "sin" and let bygones be bygones.
Actor Kelsey Grammer who played Dr. Frazier in "Cheers" and the successful spinoff "Frazier" opened up about the Roseanne tweet.
The actor, who may soon be joining the list of successful reboots of 80s comedies, confessed he doesn't enjoy "The Conners."
"I actually really liked Roseanne when it was back with Roseanne [Barr]. I'm not so crazy about The Connors," he said. "I don't mean to be an asshole about it, but it just seems like the fundamental piece is missing, however, that all went."
ROSEANNE BARR AND THE INFAMOUS TWEET
Grammer ended up talking openly about his take on the Twitter scandal that saw actress Roseanne Barr's career destroyed overnight.
Barr posted a tweet in which she made offensive racist comments about Barack Obama's former White House adviser, Valerie Jarrett, via Twitter in May 2018. The next day, ABC canceled the successful "Roseanne" reboot and distanced itself from the actress and her political views.
While there may be a "Frazier" reboot on the horizon, Grammer's current focus is on his new series, "Proven Innocent."
KELSEY GRAMMER: FORGIVE AND FORGET
Grammer, who admits that he does not enjoy the spinoff created after Barr was fired, "The Conners," says he feels "something is missing," and that something is Roseanne Barr.
According to the actor, Barr should be forgiven and allowed to make amends for her wrong acts - and taken back into the fold.
A "FRAZIER" REBOOT MAY BE IN THE CARDS
Grammer spoke about the possibility of a reboot of "Frazier" which would now include his fictional son Frederick Crane:
"He's the place where we can have a nugget of surprise. We don't know what kind of young man he was going to be. Now he's a 30-year-old, and I have some ideas about him that I think people would really enjoy."
PROMOTING HIS NEW SERIES
While there may be a "Frazier" reboot on the horizon, Grammer's current focus is on his new series, "Proven Innocent."
The series focuses on Madeline Scott, a lawyer who specializes in defending the wrongfully convicted, and Grammer plays her Nemesis, Gore Bellows, the Cook County district attorney.
Grammer's character career is shadowed by allegations of multiple wrongful convictions, and he is desperate to cover up his wrongdoing as he launches a political career. A far cry from the affable Dr. Frazier. With any luck, we may get to enjoy a return of TV's most adorable and neurotic psychiatrist in the near future.
ROSEANNE BARR'S COLLEAGUES ON HER TWEET
Kelsey Grammer may be willing to "forgive and forget," but Roseanne Barr's colleagues from "Roseanne" may feel less charitable.
Sara Gilbert, John Goodman, and Laurie Metcalf revealed how the infamous tweet affected them and threatened to end their careers too.
John Goodman, Roseanne Connor's fictional husband was in shock when he heard the news:
"[I was] in my kitchen and maybe my daughter or my wife told me. It just didn't seem true. Then it got true. I was consciously trying to accept it."
"There was the feeling of not wanting it to go away until we were ready," Goodman told the magazine. "There was a debt owed to this fictional family. We want to finish telling this story."
Gilbert admits she was dazed and had some difficulty processing the unfolding events:
"I don't remember too much. It was more just, 'OK, what are we dealing with today? I was just kind of taking things one step at a time as they came."
Metcalf, who plays Roseanne's bereaved sister in the spinoff "The Conners" was in New York, performing in "Three Tall Women" on Broadway.
"[I found out] on the news, actually. And I [first] thought, 'Oh, I wonder if we still have a show.' Because of how heavy everything became."
The actors faced the specter of unemployment, but ABC was open to a spinoff, on the condition that Roseanne Barr did not receive any financial compensation. The actress agreed, and "The Conners" was born.
In a related story, Roseanne Barr criticized her character's death on 'The Conners' calling it 'grim and morbid' and unsuitable for a family show.
Please fill in your e-mail so we can share with you our top stories!