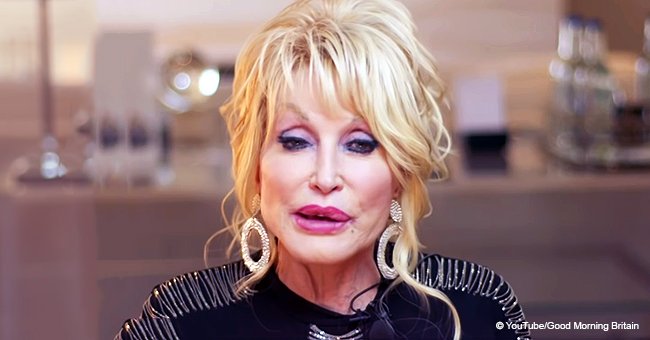 'It's a touchy subject': Dolly Parton reveals what her husband thinks of her music

We are all familiar with the "Queen of Country Music" saying unexpected things every time she gives an interview, and in her recent talk with "Good Morning Britain" she was true to her reputation by making a big revelation.
73-year-old Dolly Parton is back in the spotlight these days with the debut of "9 to 5 The Musical" a theatrical remake of the film she made 40 years before, which features original music and lyrics by the American icon.
Since the piece premiered on February 18 at London's West End's Savoy Theatre, Parton made an appearance in "Good Morning Britain" to promote her project and she seasoned the interview with a personal and unexpected admission.
At one moment in the interview, the TV host asked Parton about her husband's appreciation of her music after more than 50 years of marriage, which resulted in the singer revealing that he is not into her music that much.
"He is not necessarily one of my biggest fans (…) He is proud of me, and he loves that I love what I do, but I think it is a touchy subject."
-Dolly Parton, Good Morning Britain, February 18, 2019.
The "Jolene" singer went on to explain that it had more to do with husband Carl Dean's personal musical taste than anything else.
"He loves hard rock, he likes Led Zeppelin, and bluegrass music, so my music is somewhere in between. He doesn't dislike it, but it's not like he is going to go out of his way to play one of my records," she explained.
GMA TV host Kate Garraway brought up the subject by asking her about the rumor that Dean had seen Parton perform only once, to which the star replied that it wasn't exactly true, but that he had indeed seen her onstage just a few times.
Garraway then suggested that this dynamic in which they keep this sort of "separation" could be one of the "secrets" to their long marriage.
"I think that's true. In fact, we love each other, we respect each other, we both have a good time, he is crazy, I'm crazy, we laugh a lot, and it's been one of the healthiest, the most precious part of our relationship," Parton replied.
Recently, Parton gave the public another glimpse of the open nature of her relationship with her 76-year-old husband when she shared a little too much on her last visit to "The Tonight Show Starring Jimmy Fallon."
Parton was on the show to talk about her involvement on Jennifer Aniston's latest film "Dumplin" which soundtrack includes several original tracks by the country legend, but the conversation eventually turned to her husband's sexual fantasies.
"My husband is crazy about her, and he was more excited that I was going to do a movie with her than he was that I got the chance to write all this music. I think he fantasizes, like, a threesome," the irreverent star told Fallon.
Despite her shocking remarks, Parton's popularity has a lot more to it than her attitude, as she has proven to be ahead of her time in many aspects, as her current relevance seems to indicate.
On "9 to 5," the film she starred with Jane Fonda in 1980, many contemporary issues like payment equality and the balance between personal life and work for women were addressed decades before the #MeToo movement.
That is why the decision to turn the movie into a musical for today's times is very opportune, and Parton is happy to accompany this important moment for women with her talent.
It is not surprising then that there are talks about a movie sequel in the works, as Fonda confirmed in November 2018. "Right now, Dolly, Lily [Tomlin] and I are all intending to be in it," she said.
Please fill in your e-mail so we can share with you our top stories!