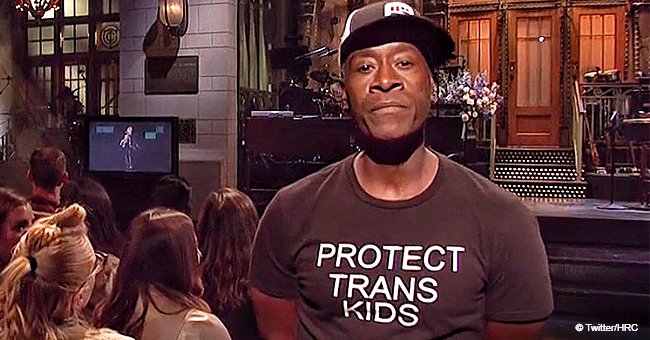 'Avengers 4' actor Don Cheadle gets praised for supporting trans kids & dissing Trump on 'SNL'
Fans praised Don Cheadle for wearing a shirt that read "Protect Trans Kids" while hosting Saturday Night Live.
Don Cheadle chose to make his time in the Saturday Night Live spotlight worthwhile. He took the moment to make a statement by supporting transgender children and taking a stab at President Donald Trump.
The Oscar-nominated actor, 54, hosted the long-running comedy show this weekend. For his appearance, he donned a shirt with the words "Protect Trans Kids" emblazoned across the front.
He proudly showed off his shirt while introducing the musical guest Gary Clark Jr. The singer joined Cheadle's statement during his second performance of the night.
He performed the song "This Land," which is an anthem against racism and prejudice. Clark Jr. decided to include the lyrics,
"I remember they used to tell me…We don't want your kind/We think you's a dog born/F— you, I'm America's son/This is where I come from."
Cheadle then appeared onstage in a red and white Soviet Union hockey jersey. The jersey had "Trump" and the number 45 on the back. The shirt nodded to Trump being the 45th president of the United States.
Fans were extremely impressed with his bravery. They praised him heavily for supporting transgender children and loved his subtle dig at the president.
"I have always been a fan of @DonCheadle but him wearing a protect trans youth T-shirt & Soviet Union hockey jersey w/ 'Trump' & '45' on the back on @nbcsnl have now put me in the super fan category," Queer Eye's culture expert, Karamo Brown wrote on Twitter. "Subtle, Masterful yet Effective. #Bravo."
Actress Laverne Cox also tweeted to praise Cheadle. She wrote:
"Thank you @DonCheadle. You rock!"
The National Center for Transgender Equality called the star a hero. They proudly stated that the star ensured all transgender children that they "have a (super)hero in their corner now."
The Hotel Rwanda star took to social media to thank his supporters on Sunday. He also thanked "Saturday Night Live" for allowing him to "throw shade."
Don Cheadle tweeted:
"To each and every one of you beautiful tweeps. i awoke to so much support and love!! thank you @nbcsnl for the opportunity to play and pay respect and throw shade in a historic space in a historic time. keep fighting, y'all. evil grows in the dark." He went on to add, "I awoke to so much support and love!!"
Cheadle is well known for his support of various charities and causes. In 2008, he funded a humanitarian aid organization called Not on Our Watch with George Clooney, Matt Damon, Brad Pitt, and others.
Please fill in your e-mail so we can share with you our top stories!