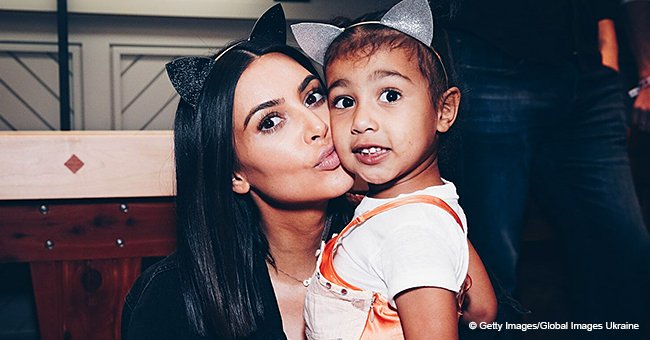 Kim Kardashian finally responds after reports say daughter North has a boyfriend

Kim Kardashian finally addressed the rumor of her daughter's alleged boyfriend and she wasn't amused.
Kim Kardashian seemed utterly weirded out when she was asked to respond to the disturbing rumors that her daughter North has a boyfriend. The reality star was attending the Hollywood Beauty Awards when paparazzi came up to her for a comment.
Rumors of North having a special someone began when Consequence's seven-year-old son, Caiden began flooding his Instagram page with posts alluding to his affection towards Kim's 5-year-old. One of his photos showed him with his arms around North at a party which he captioned, "Boo'd Up."
Days later he shared another photo with North and her brother Saint taken from what he described in his caption as a play date where they had the "BEST time."
Around Valentine's Day, he posted a photo of him bearing gifts including a Tiffany and Co. bag. Dressed like a modern-day Cassanova, he captioned the pic,
"Love Is In The Air."
Of course, it's more likely his parents were the ones who orchestrated his captions, but just the same, it spawned awkward rumors of an ongoing romance with North. It didn't help that a few weeks earlier, he also seemed to purchase a necklace for North when he posted a photo alluding to this and wrote,
"She's gonna LoVe It Wrap that up sir, I'll take it."
In his next post, he sat with a Tiffany bag beside him with what we presume carried the necklace inside and revealed who it was for in his caption.
"Shoutout to Northie, Babygirl I'll see you soon."
With all that happening, Kim couldn't help but slam the rumor and question why it's even come up.
"She doesn't have a boyfriend," she tells the paparazzi. "Like, is that for real? She's five," she explains, and that's all she really had to say about the issue.
What's there to explain, really? They're just kids. End of story.
Maybe if the paparazzi asked her about North's recent scene-stealing dance number at her father Kanye West's Sunday service, then Kim may have had more to say. Check out the clip she proudly tweeted of North's performance below.
Please fill in your e-mail so we can share with you our top stories!