Kym Herjavec Shares New Photo of Her Adorable Twins and They Are so Big
Kym Herjavec posted a new picture of her beautiful twins on her Instagram account and fans are amazed at how big they are now.
It was just a few months ago that the former "Dancing With The Stars" alumnus and her husband, Robert Herjavec, welcomed their two bundles of joy into the world, Haven May and Hudson Robert.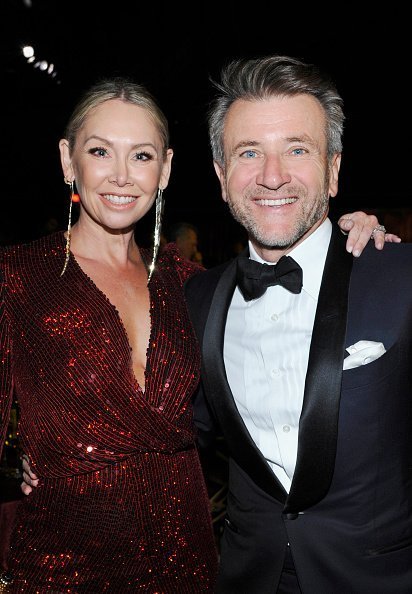 The twins would be ten months old soon, and they are already making significant moves. They have grown in size and have already started to take their first steps! And their mother could not be any prouder! 
She showed off their walking skills in a cute picture, in which the twins were rocking matching onesies. Haven wore a pink floral one while her brother wore a blue one. She captioned the picture: "#9momths, #babiesonthemove."
Just when you think they can't get any cuter, Kym finds a way to make her fans drool over the cuteness of her twins.
In the spirit of Valentine, their mom dressed them up in red clothes. They wore different outfits but with the same theme of love. In the photo, we can see one of the twins wearing a hearty shirt while the other one wore all red; the little cuties were so happy to look at the balloons, they were all smiles.
Comments from her fans echoed the thoughts of anyone who looks at those pictures:
One said "Oh my aren't the just lovely," while another fan wrote "They are so cute, just want to hug them."
Kym and Robert met at "Dancing With The Stars" when they were paired together. In April, they welcomed their twins into the world, and gushed about their arrival.
Kym posted a black and white picture of her husband holding their babies in the hospital room, with the caption:
"I never thought my heart could feel so full. We're so in love with our little angels. Born at 7:44 am and 7:45 am 4/23/18."
Almost immediately, Robert posted a beautiful prayer for his twins and revealed their names. He wrote:
"Welcome to the world Hudson Robert Herjavec and Haven May Herjavec- it's great out here. May you always know peace and grace in your lives. May your dreams have no bounds and your spirit be strong."
It would be Kym's first children, while for Robert, he already has three children from his previous marriage, from which he got a divorce in 2016.