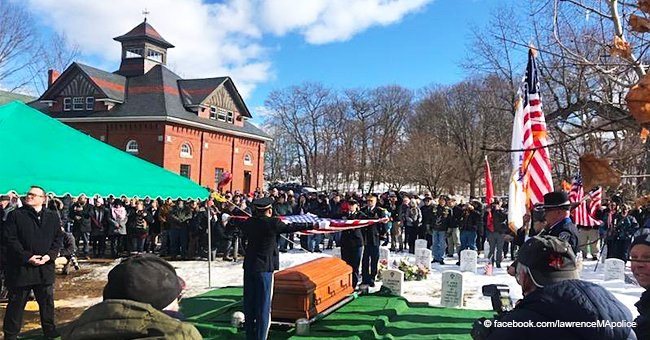 Hundreds of strangers attend funeral of war veteran with no living family to pay their respects
Army veteran James McCue receives an amazing show of support from his community in Lawrence, Massachusetts when hundreds arrive for his funeral.
The words "Lawrence Strong" on the facebook page of the Lawrence Police Department rang true on February 14, when hundreds of strangers attended James McCue's funeral. After hearing that there were no living relatives to mourn McCue's passing, retired Marine Corps Staff Sergeant Francisco Urena issued an open invitation to the members of the community.
McCue was only 21-years-old when he joined the army. He then embarked on several major battles including the D-Day invasion. He was "highly decorated" for his service, Urena said.
A native of Lawrence, he returned home and eventually outlived his wife and family. He spent his last years at the Cedar View Rehabilitation and Healthcare Center in Methuen. A few friends from the nursing home were able to join the emotional ceremony and say goodbye.
The 97-year-old veteran's close friend, Doris Sevigny, was also in attendance. It was to her that the military officers gave the folded flag from atop the casket.
Doris was his neighbor for more than 20 years. Her niece, Diane Brown shared,
"He was her eyes because she was legally blind, and she was his health care proxy. It was nice to see them together. They had happiness together. He was a happy man."
500 people joined the ceremony. Among them were members of the various veterans organizations. Calvin Perry, a U.S. Air Force veteran, said
"Just another guy down. We're running out of [WWII] veterans. This was one that landed at Normandy and has five battle stars. It's a worthy day to show up and honor him."
Army veteran David Webster of New Hampshire shared his thoughts about why he came to pay his respects to James McCue.
"A lot of them come back and have nothing, whether finances, loss of family, or whatever it might be. They deserve our support for putting their lives on the line, so it shouldn't be too much to offer them some support."
There are many others out there who feel this strongly about supporting veterans. Actor Gary Sinise who played a wounded veteran in the movie Forrest Gump in 1994 is one highly visible personality that has dedicated his life to helping veterans and their families through programs offered by his foundation.
Please fill in your e-mail so we can share with you our top stories!