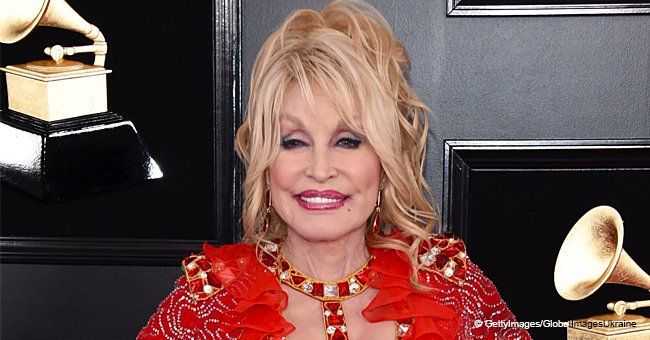 After years of speculation, Dolly Parton finally addresses rumors about her sexuality
In an exclusive Dolly Parton got candid about her sexuality and her marriage for the first time after years of gossip.
On the forefront of the gossip that surrounded Dolly was her relationship with Judy Ogle. The two had been inseparable for decades, and the tabloids had a field day. Dolly often refer to Judy as her "girlfriend." Which she is, just not in the romantic sense of the word. But gossip had Judy pinned as Dolly's secret lover.
While Dolly and her husband Carl Dean is rarely seen out in public together, they are still happily married after getting wed five decades ago. So it's not hard to imagine why Dolly shook her head when The Sun's Dan Wootton asked about her relationship with Judy, to which she replied:
"So ­people say that — because you can't really have a great relationship with a woman. I'm not gay, but I have so many gay friends, and I accept everybody for who they are."
Dolly likened her friendship with Judy to that Oprah has with her lifelong best friend, Gayle King as she continued:
"Well, people love to talk, people love to gossip. They've said that about Oprah, but it's not true. Judy and I have been best friends for 64 years since we were little kids. Our ­parents knew each other; we grew up together, we were like ­sisters, became best friends. She was very quiet; I was very outgoing. So we made perfect friends. We went all through school together."
There was a short period Judy and Dolly went their separate ways, but it was only because Judy went to the army for much-needed insurance. In the meantime, Dolly tried to make it in the music industry.
After Judy's time in the army, she joined Dolly in Nashville and the rest, as they say, is history. Dolly's rise to fame had every inch of her life picked apart by tabloids, but there is a line Dolly doesn't want to be crossed and elaborated:
"People love to talk — but sometimes that's your best publicity. I don't care what they say as long as they don't hurt other people I love."
For Dolly her marriage "to the same man" all these years have special meaning, although they had a rough patch during the 1980s when Dolly admittingly had "an affair of the heart." The burden of her infidelity weighed so heavy that she considered taking her own life, as she wrote in her autobiography:
"Now that I've gone through that terrible moment, I can certainly understand the possibilities even for someone solid like me if the pain gets bad enough."
Not particularly a fan of Dolly's type of music, she says Dean "likes hard rock and Led Zeppelin and bluegrass music." But it's not an influential part of their relationship as Dolly said:
"He's a good man. It is a true love story and he's my best buddy — he's crazy, he's funny. So I think laughter has been a big part of our relationship. We both have a lot of fun. And we're not in the same business — he doesn't care about that. He's pretty much a homebody, loves staying around home. We live out on a farm. He likes to mow the fields and work on his tractors."
While in London, Dolly also appeared on Good Morning Brittian where she elaborated on Dean not being a fan of her music:
"He felt like he'd get nervous if I messed up and all that. He's not necessarily one of my biggest fans as [sic] my music. He's proud of me. And he loves that I love what I do. I think it's just… it's a touchy subject. I'm like his little girl I think. He just worries about that."
Being married for 53 years is no small feat, and Good Morning Brittian's Lorraine couldn't help but ask about the couple's secret to such a long marriage, to which Dolly responded:
"The fact that we like each other, we respect each other, we've always had a good time. He's crazy, and I'm crazy."
But the couple prefers to keep their relationship and lives together very private, and Dolly recently shared the reason why.
Please fill in your e-mail so we can share with you our top stories!