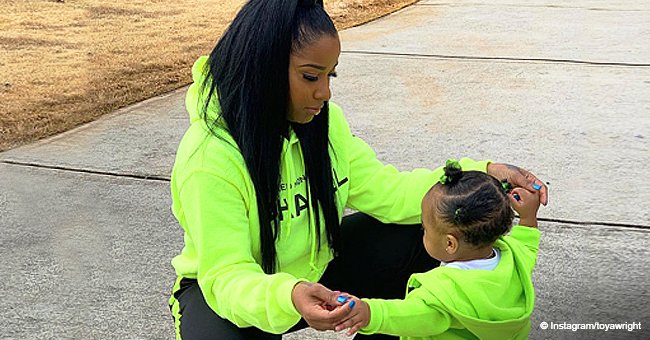 Toya Wright's daughter Reign looks like mom as they stroll in matching neon green outfits
Toya Wright and her daughter Reign wore matching neon green outfits and posed together for a series of Instagram pics, shown below.
The reality TV star, Toya Wright has made a name for herself as a fashion icon. It seems her little girl, Reign Rushing is following in her footsteps.
The pair dressed to kill in matching neon green outfits last week. The posed for several photos which Wright shared on Instagram.
Fans were stunned by how gorgeous the mother-daughter duo looked. Many took to the comments section to express their thoughts on the subject.
Someone wrote, "I love this. Reign is so adorable. She gives me baby fever all over again."
Their outfits consisted of neon green jackets and black pants. Toya wore neon green heels while Reign wore matching sneakers.
"I am beyond impressed with this little one. Hiiii Reigny Poo, Toya thanks for sharing your little princess with us. I admire your parenting dynamics, STAY BLESSED," commented one fan.
One fan took the opportunity to ask about Reigny's dad, Robert Rushing. The fan commented:
"I've been wanting to ask you if she looks like her father for the longest of time now…. I don't recall ever seeing him to the best of my knowledge but as cute as she is I don't think she favors you at all. I think Nae got greedy when she reached your Ovaries BUILD-A-BABY gene pool lol… Poor Reign couldn't find crumbs of you when she traveled from the fallopian tubes down to ya uterus, yo womb was spotless Chileee! It just a message on the wall that said REGINAE WAS HERE …. I tickled my damn self writing this, Congrats Toya she's adorable."
Others were more critical of Toya's outfit choice. One person did not like the idea of wearing sweatpants and heels and wrote:
"Heels in a work outfit…….not sportswear shoes????? Huh, are we working out or just free promotion for Chanel is this what we embedding the future generations is just to look cute???? I do love what u do, and I do feel you are a wonderful mother and woman….not hating at all much love…..just different view."
Earlier this month, Toya Wright celebrates daughter's first birthday. She threw her a stunning pastel rainbow-themed party.
Please fill in your e-mail so we can share with you our top stories!