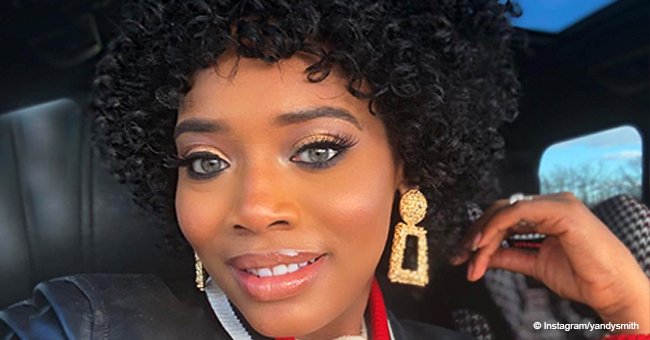 Yandy Smith talks about raising kings and queens in photo of herself & 3 children with natural hair
"Love & Hip Hop: New York" star Yandy Smith is a proud mother of king and queens in a new pic shared to social media, as she reflects about parenthood and the responsibility of preparing the kids to have potential in the future.
Yandy Smith is setting an example for her kids by embracing her natural hair and being an outspoken woman that doesn't fear to fight for other people's rights.
The celebrity mom recently posed with her kids, Omere and Skylar, and her foster daughter Infiniti, in golden royal attires. The result was a beautiful family portrait that some fans have titled as "black-excellence."
In the Instagram photo, Yandy, Infiniti, and Skylar rocked their naturally curly hair in big afros, with Smith sporting a crown on her head and the girls wearing golden metal hairbands. Omere, on the other hand, donned a King crown and a scepter.
Smith captioned the powerful pic:
"I'm not just raising Kings and Queens. I'm potentially raising someone's father, some one's mother, a brother, a sister, a best friend, a savior, a protector, most importantly I'm raising Gods perfect gift to me @therealinfiniti_ @omereandskylar My dreams in motion."
Fans of the reality star took over the comment section to gush about the picture. "The royal family. You all look amazing, black excellence for sure" wrote one user.
Another added, "Man that is awesome I can't even find the words. Epic!" and another chimed in to say,
"Infiniti fits right in her piece to your family puzzle!!!! Blood doesn't make you a Mother being able to open your heart and love someone you had nothing to do with as your own makes you a phenomenal Mother!!!!! Hands down too you my Queen."
The fan is referring to the fact that Yandy started the process to be Infiniti's foster mom late last year. She met the girl as part of a mentorship program with the non-profit organization EGL Partners Uplifting our Daughters, and they developed a strong bond.
Last August, Smith shared a video walking out of a family court with Infiniti after getting approval from a judge to start the fostering process.
"I met @tooiinfinityandbeyond when she was in 7th grade speaking at her school, never thought 3 years later I would be in the process of becoming a foster mother to her," Yandy captioned the emotional video.
The boss lady also stated on "The Breakfast Club" that she was hurt by comments that suggested she brought Infiniti into her life just to have a storyline on "Love & Hip Hop: New York."
"That hurts me to my core. My children are babies. You think I'm gonna put them in danger because I want a publicity stunt? This isn't something that stops when the cameras stop," Smith said getting emotional. And continued:
"At 5 am, I take her to school. I have ACS [Administration for Children's Services] on my back. Just thinking about it makes me emotional. She has to see these comments, and I never want her to feel like I'm doing this because of a storyline."
Infiniti is now a star on her own accord on social media, and she's part of Yandy's campaign to promote her new skincare line, Yelle.
The teenager is also on the process of creating her company, and she hopes to be an advocate for other girls on the foster care system that, like her, have big dreams.
Please fill in your e-mail so we can share with you our top stories!