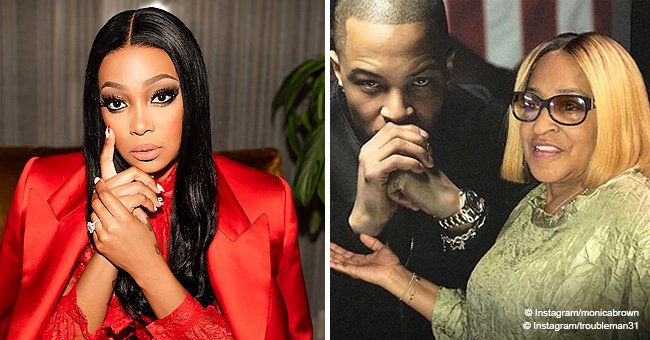 Monica dedicates song to T.I.'s sister who's in critical condition after car crash

T.I. and the rest of the Harris family have been paying tribute to their family member, Precious Harris, who is in critical condition following a car crash.
After the family asked for prayers from their supporters and friends, Monica Brown joined in and used her concert to dedicate a song to her friend.
Monica Brown recently performed in New Orleans, and she switched her setlist up a bit to perform a soulful rendition of her hit song from the 1990s called "For You I Will," which she dedicated to her friend, Precious.
The Atlanta-based artist first shared a little bit about her relationship with the Harris family, saying that she considers them to be a part of her family as well.
In the dark concert hall, she asked the crowd to turn on their flashlights, saying she wants "Precious to feel the love." As she sang, her fans waved their phones in the air which showed a beautiful illusion of black and white.
T.I.'s wife Tiny was the first to acknowledge the sweet tribute by Monica, thanking her for the gesture and assuring her that Precious would have been honored.
"My sis @monicabrown so Dope for this!! Thank you so much for showing so much love to our girl. I know u & @preciousharris1913 had y'all own bond. That's real love Mo... #PreciousWouldBeSoHonored"
It's been a rough couple of days for the Harris family, who have been worried sick over the condition of Precious, who continues to fight for her life in the hospital.
Although not a lot is known about what happened, it was said that she was in a car accident that left her in bad shape.
However, T.I. and Tiny made sure to celebrate Valentine's Day, despite the tragedy that happened, in order to show everyone that their love surpasses all challenges and problems.
T.I. made sure to surprise his wife with an extravagant gift, which made Tiny beam with joy despite feeling down about Precious.
An overjoyed Tiny shared two videos of her beau's surprise, first showing off a video of him preparing the surprise for her.
The rapper held a large square-cut diamond ring in his hand which he stuck on a floral arrangement on the wall. The video then cut to Tiny entering the room, where she seemed to be in disbelief over the beautiful arrangement.
When she looked a bit closer at the heart-shaped arrangement, she saw the diamond ring which she immediately wore.
In the end, Tiny noted that this Valentine's Day might be the best one for the couple, but it's also the worst because of what their family is going through.
Please fill in your e-mail so we can share with you our top stories!