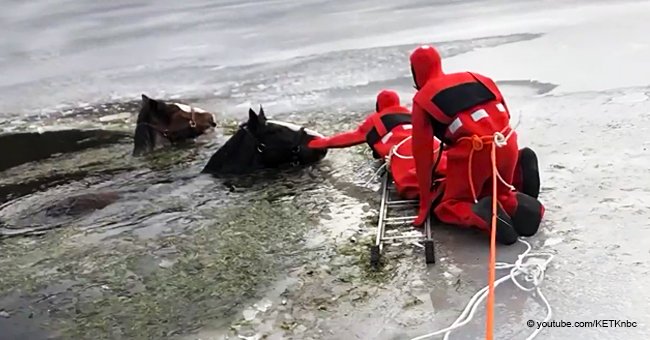 Rescuers desperately try to save 2 Clydesdales from an icy lake in a dramatic video

Two horses wandered off a farm and fell into a frozen lake in Pennsylvania. However, they were quickly prevented from drowning by rescue crews.
Horses have a reputation for being formidable; so, having two grown horses struggle to stay alive amidst an ice-cold lake isn't a situation that comes up often. However, even the rarest occurrences do happen.
Recently, two horses from a farm in Stroudsburg, Pennsylvania found themselves in a situation so grave, they couldn't help themselves.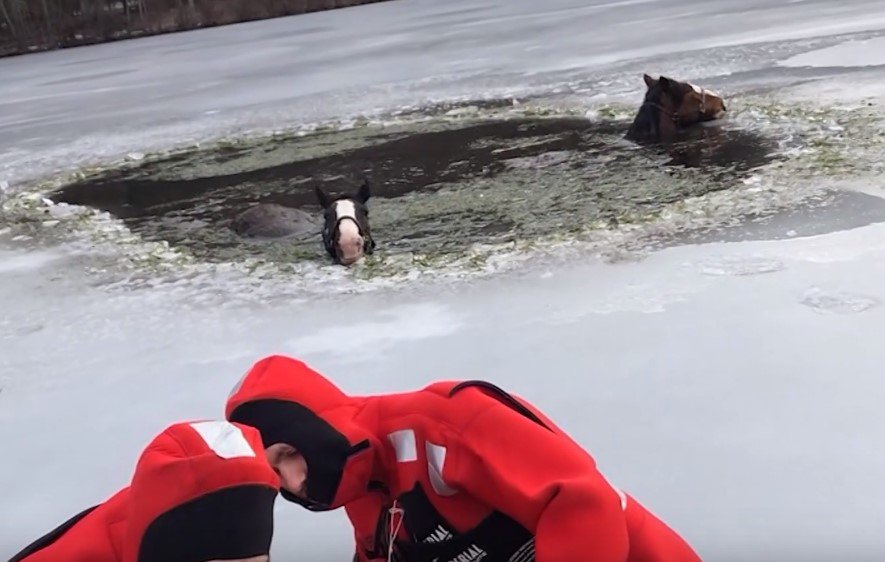 Rescuers prepare to save two horses — Wilhelm and Gunther — stuck in icy lake after breaking out of " Quiet Valley Living Historical Farm" | Photo: YouTube / KETKnbc
The two horses, Clydesdales, belong to the "Quiet Valley Living Historical Farm" from which they'd broken out and wandered.
They strayed from their home and fell into an icy lake which didn't hesitate to drown them. Thankfully, rescuers arrived and quickly sprang to work, as only the horses' heads weren't submerged in the water at that point.
Gunther and Wilhelm — those are their names— gave everyone the scare of their lives as their 1,500-pound weight made it quite difficult for the rescuers to pull them out. They were at risk of various medical conditions like hypothermia, and a life-threatening colic or organ failure due to the level of stress they were in.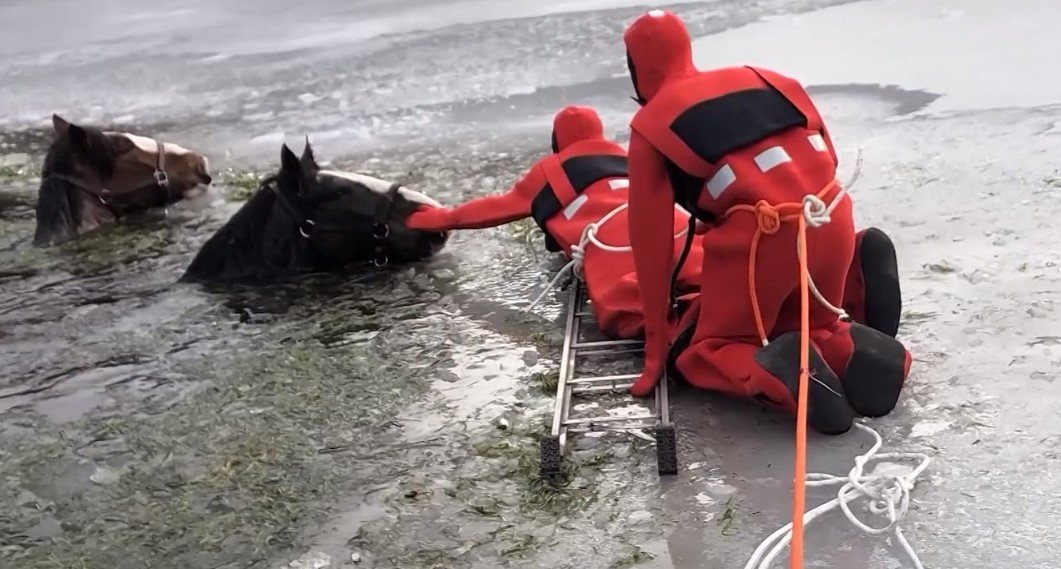 Rescuers begin to tie ropes around two horses — Wilhelm and Gunther — stuck in icy lake after breaking out of farm | Photo: YouTube / KETKnbc
The farm owner and some staff were utterly terrified and had lost all hopes of the animals making it out alive.
However, the rescue team proved efficient as they procured a solution; they cut a trench through the ice using chainsaws and ice picks, and then used ropes to pull the horses out.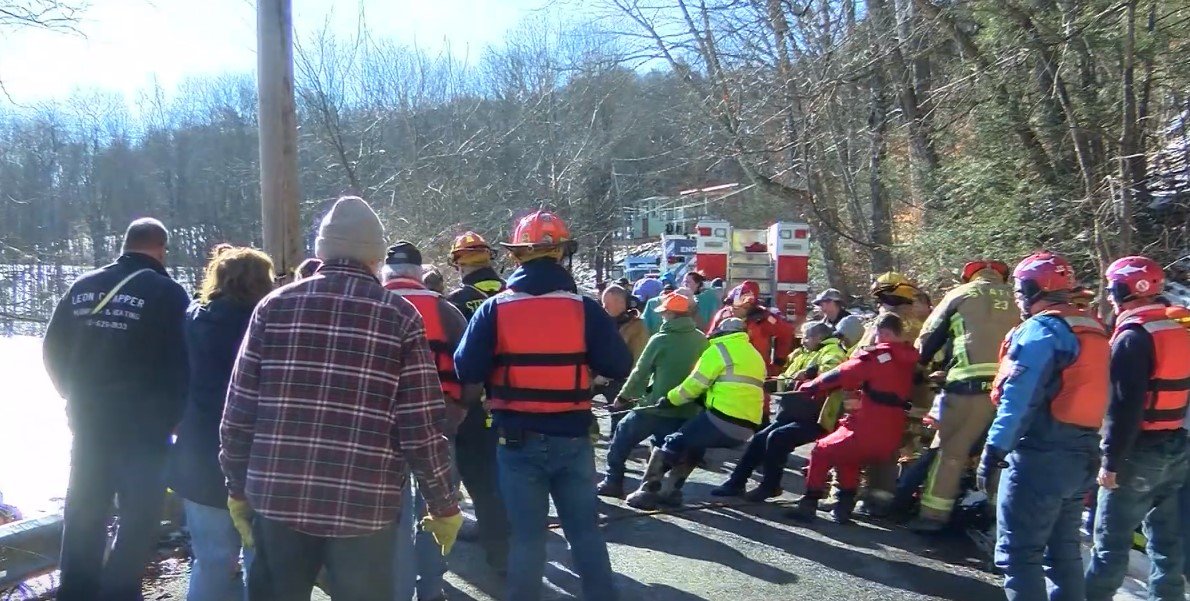 Rescuers and community residents pull on ropes attached to horses stuck icy lake after wandering off from farm | Photo: YouTube / KETKnbc
The two were dragged out successfully; without any broken bones or fractures. The whole incident is quite surprising as no one expected two 15-year olds to be this strong!
The entire community was relieved that the two horses survived the ordeal and quickly ushered them into horse blankets and heaters.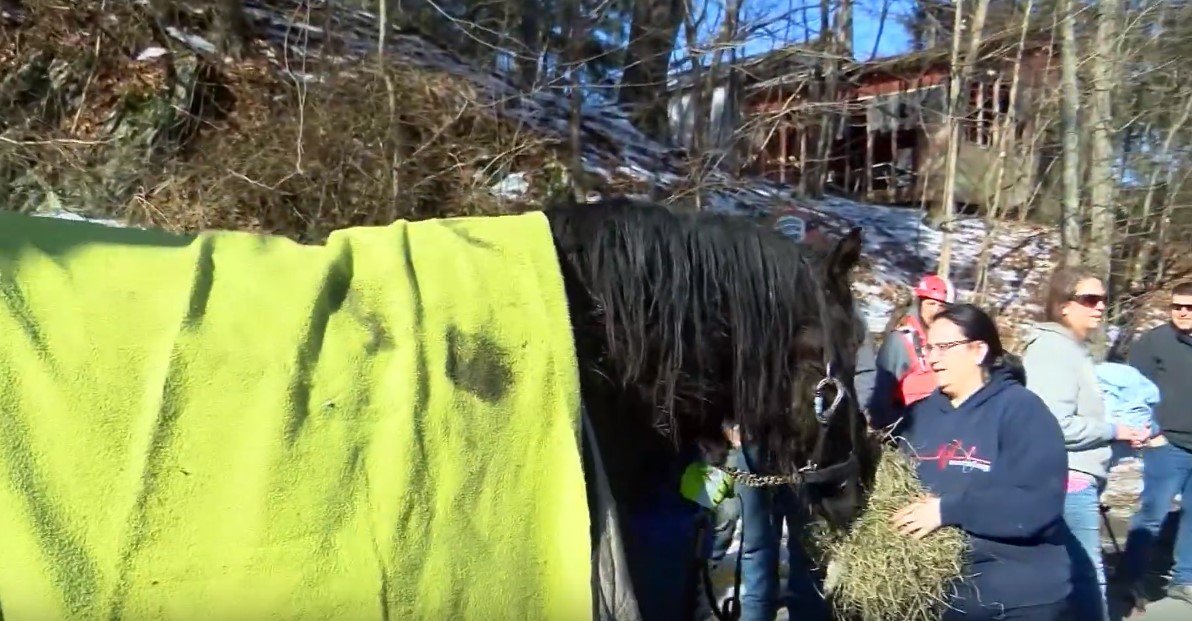 One of the rescued horses covered with a blanket and being fed after rescue attempt proved successful | Photo: YouTube / KETKnbc
The rescue team deserves all the accolades for being superheroes; saving the lives of the horses against the odds.
And they aren't the only animal heroes out there. The same way they rescued Gunther and Wilhelm, a 49-year old man from Wheatfield recently saved a small dog that fell into an icy pond.
The man, Don Chatton, had been asked by someone to help find a missing dog. His two dogs had found the lost dog in an ice-cold lake; Don quickly sprung to action, saving the dog and taking it to its owner.
Please fill in your e-mail so we can share with you our top stories!