Jada Pinkett-Smith, daughter & mom make hearts race in red dresses for Essence Magazine cover
Willow, Jade, and Adrienne sizzled on the cover of ESSENCE Magazine in sultry red dresses.
Three women are celebrating Black History Month in a very special way.
Adrienne Banfield-Norris, Jada Pinkett Smith, and Willow Smith were featured on the cover of ESSENCE, in an extraordinary tribute to the personal history of three generations of strong women who are not afraid to own their truth.
THREE GENERATIONS REINVENTING THE TALK SHOW
Actress Jada and her equally talented daughter Willow joined her mother Adrienne, donning stunning red dresses, complimentary, but very different from each other.
That could also be a fair description of the energy of their talk show, "Red Table Talk", in which the three women openly discuss sensitive topics and garner the views of three generations. 
What makes the show unique is that the three women are very open about their own diverse views
FACEBOOK WATCH SERIES AN AUDIENCE PHENOMENON
"Red Table Talk" premiered on May 7, 2018, and was an instant hit with audiences.
The themes under discussion are both controversial and challenging and have included "The Racial Divide: Women of Color & White Women," "Domestic Abuse: When Love Turns Violent," "Interracial Marriage with Ellen Pompeo," and "Black and Gay in America with Don Lemon."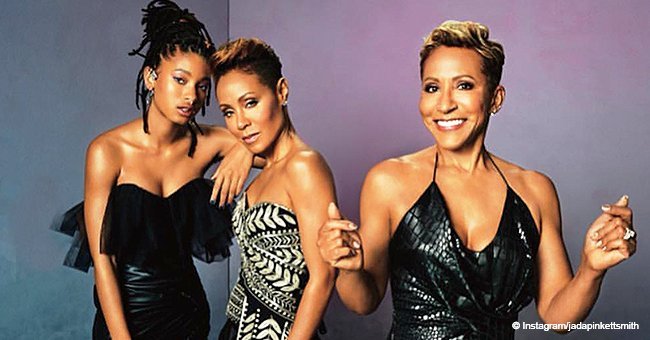 TAKING ACROSS THE GENERATIONAL DIVIDES
What makes the show unique is that the three women are very open about their own diverse views, and how are they are colored by the generation they grew up in, and their own life experiences. Jada summarised the show's appeal to audiences:
"Everybody has a place at the table because there's not just one perspective. That's what makes the show awesome to me."
GRANDMOTHER, MOTHER, AND CHILD
Jada and Willow are celebrities in their own right, but the real surprise was Adrienne, their loving mother, and grandmother.
Adrienne, 65, has shared her experience on surviving domestic violence, and fighting to attain and maintain sobriety. Adrienne has recently celebrated being sober for 27 years.
The three lovely and strong ladies are worthy of being on the cover of ESSENCE, and an inspiration to women everywhere.
JADA PINKETT SMITH OPENS UP ABOUT RELATIONSHIP WITH HUSBAND WILL
Jada Pinkett Smith opened up about her marriage to Will Smith and how her notions of romantic love nearly destroyed it.
The actress alerted women to the fact that the unreasonable expectations of being constantly courted with gestures of romantic love lead many to feel frustrated in their relationships.
"I used to believe that romantic love was the highest form of love until I realized how unmet standards of romantic love often justified it to turn into a cold heart that many times can fuel hateful and brutal actions of revenge and manipulation towards someone you 'say' or 'said' you loved."
Jada revealed that after she stopped equating romance with true, committed, love, her relationship with husband Will Smith deepened into "a life partnership led by and steeped in 'devotional friendship.'"
In a related story, Will and Jada Pinkett Smith were reportedly forced to turn over financial records in connection with Duane Martin's fraud lawsuit.