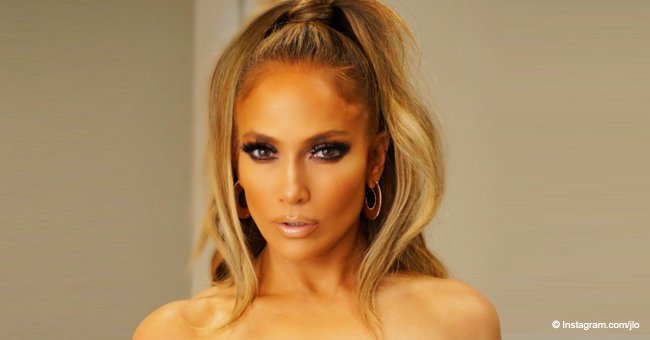 Jennifer Lopez's raunchy and sensual pole dance routine that has Alex Rodríguez going crazy

The multitalented star is learning pole dance in preparation for her role as a stripper in an upcoming movie, and her boyfriend proudly shared a video of her practice on social media.
On January 20, 43-year-old took to his Instagram to publish a Story showing his 49-year-old romantic partner practicing some pole dancing moves wearing shorts, sports top, and high heels, alongside an instructor.
While the Story is not available anymore, having passed more than 24 hours, the fan account "fabulous.jlo" saved it and posted it in their feed so we can all take a peek of it and see four ourselves how good Lopez is getting in this discipline.
The mother-of-two confirmed her involvement in the film in question, which will be titled "Hustlers," in her recent appearance on "Jimmy Kimmel Live," revealing that she and Rodríguez had a pole at the house for her practice.
Lopez got started in the entertainment business as a dancer, and the public is used to see her all kinds of impressive things onstage, but this is new ground for the "Dinero" singer, and thanks to Rodríguez we have seen her take her first steps.
"[The instructor] is a girl from Cirque du Soleil. She is fantastic and she works with me… I mean, I have bruises everywhere. It is so hard. I respect the people who do the pole."
-Jennifer Lopez, Jimmy Kimmel Live, February 14, 2019.
According to the actress and singer, "Hustlers" will tell a true story of a group of strippers from New York that devised a plan to scam Wall Street big shots.
After two years together, Lopez and Rodriguez are very much into each other, and they use every moment they have to be together, even in work-related activities.
Of course, Rodriguez was more than happy to watch his girlfriend learn pole dancing, but he also joined her in a less enjoyable test she submitted herself in order to be ready for filming the movie.
The couple recently completed a 10-Day no-carbs and no-sugar diet, and they are reportedly planning to attempt the challenge once again, this time inviting fans to try it themselves.
This and constant training at the gym is part of the physical conditioning that Lopez has to undergo to be fit for her upcoming role, and the happy couple is frequently spotted in Miami leaving the gym together after work out.
We can certainly say that all this dieting and exercising has paid off for Lopez, who is only months away to turn 50 years old and is looking better than ever.
Please fill in your e-mail so we can share with you our top stories!