People: Jordyn Woods Reportedly Tries to Apologize to Khloé K. after Tristan Cheating Rumors
Jordyn Woods has been crying with remorse over her cheating scandal that rocked her relationship with the Kardashians.  She's reportedly desperate to make amends with the family after she was kicked out of Kylie Jenner's home. 
Jordyn Woods is desperate to get back on the good side of the Kardashian family after she reportedly hooked up with Khloe Kardashian's baby daddy, Tristan Thompson. 
Sources for People reveal Jordyn is "remorseful" and finding ways to apologize to Khloe Kardashian and the rest of the Kar-Jenner clan who she surprised by her betrayal.
Jordyn Woods Has Been Trying to Apologize to Khloé Kardashian: 'She's Completely Remorseful' https://t.co/sroT3f4rQ4

— People (@people) February 21, 2019
Reports suggest she was kicked out of her best friend, Kylie Jenner's home and is now living with her mother, crying over the situation. According to a source, she "knows she made a mistake" and "wants to apologize and make everything right." The source adds, 
"She's completely remorseful. She spent the whole night crying with her mom and sister."
Jordyn Woods' world has been turned upside down since the cheating scandal and knows her "life will never be the same." https://t.co/vk74OGrlhf pic.twitter.com/wGUV6C24tu

— E! News (@enews) February 21, 2019
News about Jordyn's betrayal hit headlines on Tuesday coinciding with reports that Khloe had ended her relationship with Tristan. It was later revealed the mother of True called it quits after she discovered the NBA player had cheated on her again and with Jordyn, a close friend of the family. 
BREAKING! It's official: Khloe Kardashian and Tristan Thompson have split. https://t.co/ySmLfvn8ja pic.twitter.com/Ln15yz5PK9

— E! News (@enews) February 19, 2019
The Kardashians initially didn't believe stories alluding to Tristan hooking up with Jordyn at a party with the Cleveland Cavaliers player himself denying it and branding it "Fake News." But after conferring with people who were there that unfaithful night, the wronged family had the confirmation they needed.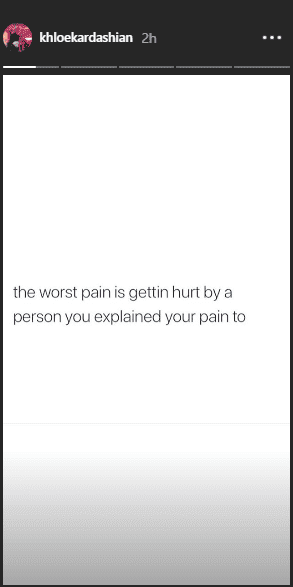 Meanwhile, Kylie, who's been best friends with Jordyn since high school is devastated. She treated Jordyn like her sister and can't believe she would be capable of hurting her family that way. A source of ET explains, 
"Jordyn is a sister to Kylie, and she's extremely shocked this could happen, as is the whole family. Kylie is trying to get all the facts before she makes up her mind, but for now, Jordyn isn't staying at Kylie's. Kylie needs her space and also wants to respect her sister Khloe."  
Jordyn Woods has officially moved out of Kylie Jenner's home: "Kylie's life has been turned upside down as well. She feels like she never knew who Jordyn was." 😢 https://t.co/CwesWl5HMl pic.twitter.com/R83sbXNjUL

— E! News (@enews) February 21, 2019
Jordyn has yet to speak publicly about her "mistake" but as of now, it seems her focus is making amends with the family she betrayed. Many suspect her life will never be the same after this.