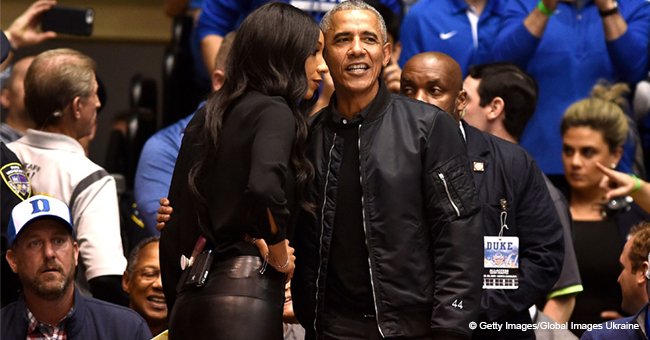 Barack Obama Made Rare Appearance in Casual Outfit and His Bomber Sparked Internet Overreacting.
Obama showed up for an indoor game and oh my was he looking good in his Rag & Bone black bomber jacket, so good, the whole internet is talking about it.
The former US President was at Durham N.C., on Wednesday to watch North Carolina Tar Heels take on the Duke Blue Devils at the Cameron indoor stadium.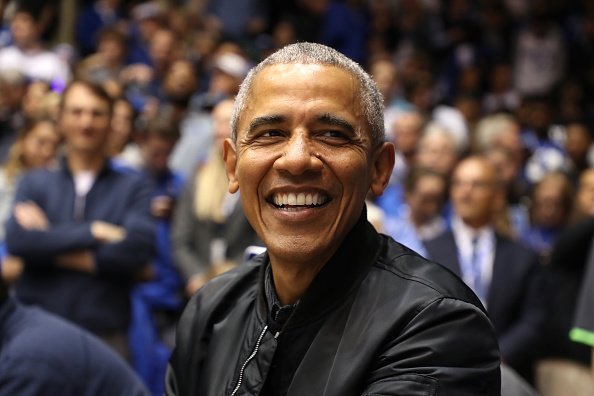 Barack Obama at Cameron Indoor Stadium on February 20, 2019 in Durham, North Carolina | Photo: Getty Images
Barack Obama opted to wear a black jacket; his outfit has gotten a lot of "oh my god!" reactions on social media, the jacket has even been tagged the- "O-bomber." The jacket was custom made for him and had "44" in white embroidered on the sleeve of the black Jacket.
The "44" is a reference to him being the 44th President of the United States. The "44" stitched on the jacket is causing even a greater fuss than the match he went to watch.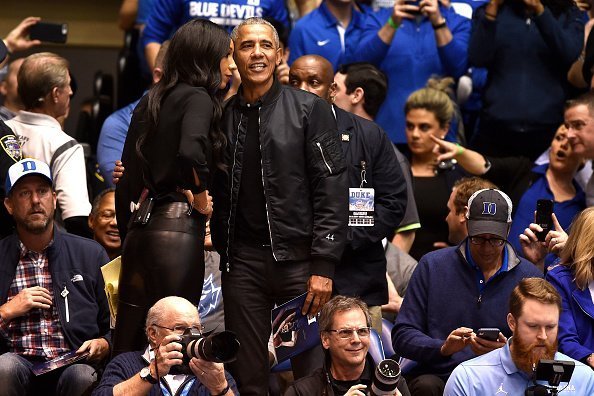 Barack Obama talks with ESPN analyst Maria Taylor at Cameron Indoor Stadium on February 20, 2019 in Durham, North Carolina |Photo: Getty Images
Twitter went crazy when the pictures surfaced. One Twitter user commented on the picture: "Obama looking fiiiiinnneeeee in his O-Bomber".
Another user tweeted: "Obama switches his cool on anytime he feels like gluing us to our screens," and added a drooling emoji to give effect. The former president knows a lot more than fashion; when it comes to stepping up and being a man, one can say- the man knows his onions.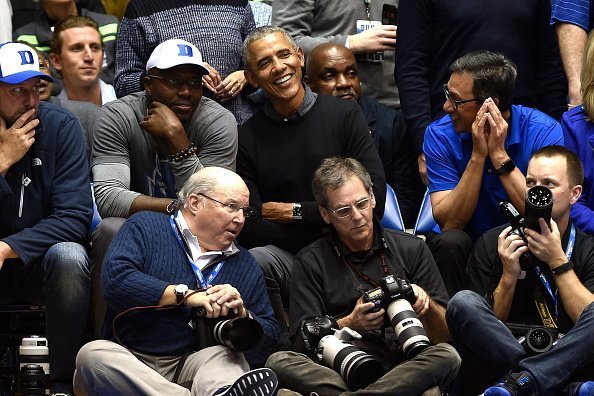 Barack Obama attends the game at Cameron Indoor Stadium on February 20, 2019 in Durham, North Carolina | Photo: Getty Images
He shared this knowledge when he spoke at an event to mark the fifth anniversary of the non-profit organization- My Brother's Keeper in California.The organization is funded by his foundation partly (Obama foundation).
Obama did not speak alone, and he worked with NBA player Stephen Curry in promoting a culture of good and right living among an audience of young African-American men.
He spoke to them on working on their self-confidence as a way to achieving greatness. The duo discussed at the event, that role of man is dynamic and evolves with time, and that they should not get stuck in the past concept of what a man should be.
Obama warned the young men against falling into the traps of stereotypes, to buttress his point, he said there is nothing wrong with being introduced as- Michelle's husband. He also introduced Stephen as- Ayesha's husband.
He managed to squeeze in a sweet compliment to his wife of 27 years when he told the audience:"If you're very confident about your sexuality, you don't have to have right women around you twerking," he then added, "Cause I've got one woman I'm happy with, and she's a strong woman."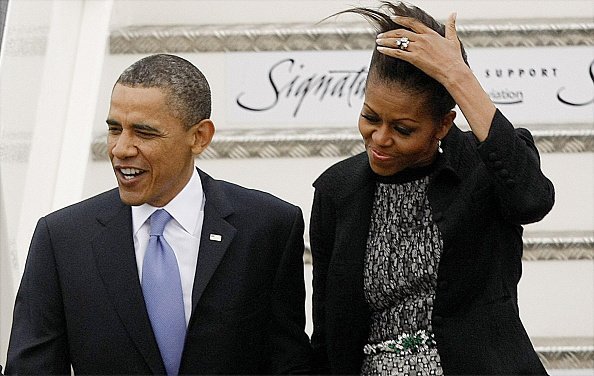 Barrack Obama and his wife Michelle land at Dublin Airport on Air Force One at the start of his visit to Ireland | Photo: Getty Images
The audience applauded the pure sweetness of that statement.
Please fill in your e-mail so we can share with you our top stories!