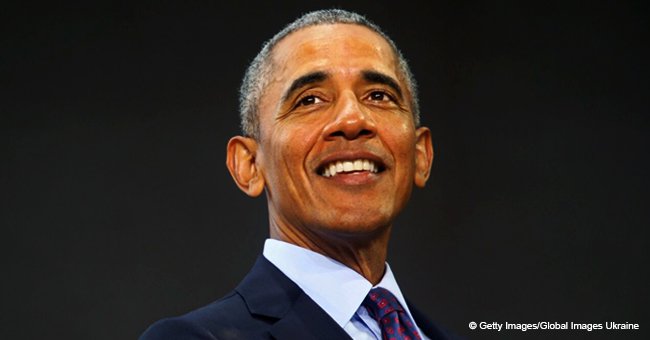 Barack Obama blasts the current rap & hip-hop culture for instilling wrong values in young men
Barack Obama has faulted contemporary rap and hip-hop culture for instilling wrong values and promoting toxic masculinity in young men.
Addressing young men at the "My Brother's Keeper Alliance" Summit in Oakland, California on Tuesday, the former president lamented popular music's complicity in the prevalence of faulty values among youths.
In a video posted to YouTube by the Obama Foundation, Obama can be heard saying towards the end of the forum:
"Let's face it, a lot of hip hop and rap music is built around 'me showing how I got more money than you, I can disrespect you and you can't do nothing about it. I'm going to talk about you and punk you.' Ironically, that actually shows the vulnerability that you feel."
TRUE CONFIDENCE
"If you are really confident about your financial situation, you probably are not going to be wearing an 8-pound chain around your neck," he continued amidst applause and cheers from the audience. "Because you know 'Oh I got bank. I don't have to show you how much I got.'"
Chipping in some praise for his wife of 26 years, Michelle, Obama added:
"If you're very confident about your sexuality, you don't have to have eight women around you twerking… Because I've got one woman who I'm very happy with, and she's a strong woman."
COLORED BY RACISM
The "Dreams From My Father" author further identified the ripple effect of historical racism; how it sends a message to men that they are "less-than" and incites the need to "compensate by exaggerating certain stereotypical ways that men are supposed to act."
"That's a trap," Obama asserted. "If you're confident about your strength, you don't need to show me by putting somebody else down. Show me how strong you are that you can lift somebody else up."
Below is the full video of the summit but Obama makes the comments about rap and hip-hop around the 55:14 mark.
CATCHING THE BOYS YOUNG
Earlier on during the forum, the Democratic Party member also charged the audience on setting the right expectations.
"We tend to rise to the expectations that are set for us. If a young boy is taught early on, 'You are going to be kind to people, not bully people,' that will have an impact. If you say, 'You treat young women with respect. They are not objects. They are humans with the same aspirations and desires, and they are just as worthy of respect as you are,' that has an impact. We've got to set that tone early in life."
OBAMA'S COMMITMENT
For about an hour, Obama entertained questions from young men from all over the country as part of activities marking the 5th anniversary of "My Brother's Keeper Alliance," his non-profit initiative aimed that aims to "address persistent opportunity gaps faced by boys and young men of color and ensure that all young people can reach their full potential."
Obama was joined on stage by NBA player, Stephen Curry, who also took questions from the audience.
Please fill in your e-mail so we can share with you our top stories!