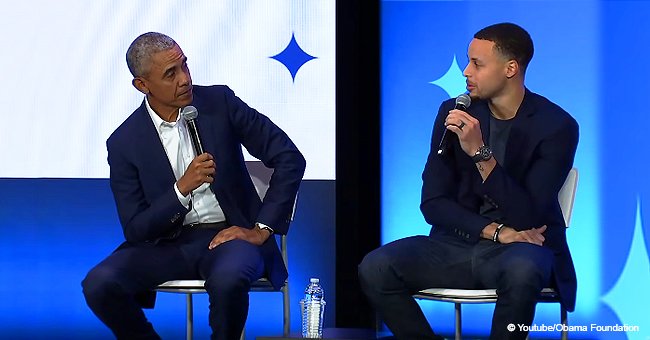 Barack Obama and Stephen Curry talk to minority boys during 5th anniversary of My Brother's Keeper event
NBA star Stephen Curry joined former POTUS Barack Obama at the My Brother's Keeper Alliance Summit in Oakland, California.
It was the fifth anniversary of the event, which Obama created in 2012 when he was still the President of the US. He came up with the initiative after 17-year-old Trayvon Martin was killed, what sparked protests over national profiling.
During the first national gathering, Obama requested communities to close opportunity gaps for minority boys, focusing primarily in Black, Latino, and Native American boys. According to him, boys should be aware that they matter and that the community care and believe about them.
THIS YEAR'S EVENT
As for the fifth gathering, the former President sat next to Curry for about an hour in which they responded questions from the audience and addressed different topics, including lacking confidence or being aimless.
At some point during the event, Obama praised single mothers, including his, for their role at raising children by their own. Apart from that, he said that teens should look for a mentor and try to find ways to guide others.
CURRY'S WORDS
In Curry's case, he emphasized the value of teamwork, saying that "nothing great is done by yourself." Obama even made the entire room laugh when he talked about what being a man meant, pointing out that is was about being "responsible," "reliable," "hard-working," and "compassionate."
"If you are very confident about your sexuality, you don't have to have eight women around you twerking. 'Cause I've got one woman who I'm very happy with. And she's a strong woman," said Obama.
Award-winning singer-songwriter John Legend was also present in the event, and she took the stage with a piano to sing a cover of Marvin Gaye's "What's Going On." Later, he introduced the mothers of Trayvon Martin, Oscar Grant, and Jordan Davis, all victims of gun violence.
OBAMA'S MESSAGE IN VALENTINE'S DAY
It is not the first time that Obama makes headlines recently, though, as he took to social media to show his love and appreciation to his wife, Michelle, on Valentine's Day.
In the image, the lovely couple appeared wearing elegant, black clothes while dancing. In the caption, the man wrote,
"Happy Valentine's Day to the extraordinarily smart, beautiful, funny, one and only Michelle Obama. It's true; she does get down to Motown."
Please fill in your e-mail so we can share with you our top stories!