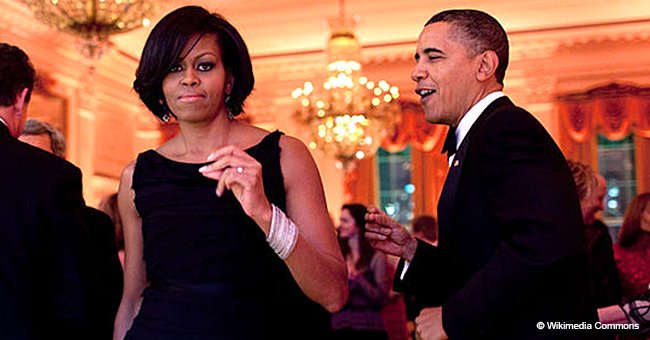 Barack Obama shares romantic tribute to his 'one and only' wife Michelle on Valentine's Day
Barack Obama pays tribute to his wife's passion for Motown as he shares a photo of her busting a move on Valentine's Day.
Another special occasion means another tribute from Barack Obama to his wife. This time, he wrote a loving message for her on Valentine's Day.
It is not unusual for the former president to laud his wife, Michelle Obama on social media since he would often do so in the past. Birthdays and anniversaries are moments when he would tweet a thought or two about her to tell her how special she is.
Valentine's Day this year was no exception. He tweeted a photo of the two of them dancing and wrote about how "extraordinarily smart, beautiful, funny" his "one and only" is. Alluding to her recent appearance at the Grammys where she gave tribute to Motown records by saying she "wore [it] out on the South Side", he added,
"It's true; she does get down to Motown."
Shortly after his tribute, Michelle sent out her own version of a nod to the day of hearts by paying homage not just to her husband but to their daughters as well. She posted family photos from the past and simply captioned them,
"So lucky to call these three my valentines for all these years."
The first photo she shared was taken in 2004 when Malia and Sasha were mere kids cuddling with their parents as they waited for the results of the elections where their father ran as senator. The second photo featured the family of four during a State Dinner twelve years later.
Barack and Michelle are probably the only presidential couple who's ever shown any affection on social media. None of their predecessors nor President Trump and his wife Melania Trump have ever tweeted sweet nothings to each other on Valentine's Day or any occasion for that matter.
The Trumps were busy entertaining Colombian First Couple Iván Duque Márquez and María Luis Sandoval on the eve of Valentine's. Melania in pink was as far as she went in recognizing the occasion.
The following day she wore pink again when she visited the Children's Inn at the National Institutes of Health, the same thing she did last year.
It's not clear if the president and first lady had plans of spending Valentine's evening together but we suspect it won't be as special as what the Obamas may have planned.
Please fill in your e-mail so we can share with you our top stories!