Michelle Obama stuns with surprise appearance at the Grammys to celebrate influence of Black music
Michelle Obama turned up at the Grammys and won 'Best Surprise Appearance'.
This was one of the best Grammy moments ever. It ranks right up there with that time 6-year-old Blue Ivy created meme gold when she shushed superstar parents Beyoncé and Jay-Z as they were applauding Camila Cabello's speech.
Alicia Keys made Grammy history by being the first female host in 14 years. She cemented her status as one of the most memorable ones when she brought out the former First Lady.
In an unexpected opening monologue that elicited a powerful reaction from the celebrity audience, Alicia Keys opened the show with Lady Gaga, Jada Pinkett Smith, Jennifer Lopez, and a surprise guest - Michelle Obama. Each woman, an icon in her own right, described what music means to her personally.
Michelle Obama walks out on the Grammys stage with Lady Gaga, Jada Pinkett Smith and J. Lo. pic.twitter.com/tfjPpjRQ2G

— Kyle Griffin (@kylegriffin1) February 11, 2019
Dressed in an outfit reminiscent of the disco era, Michelle looked like an absolute queen in a sequined wide-leg pantsuit with flowing sleeves and a belt that cinched her waist. However, it was the reception of her speech, where she talked about her love of Motown music and its influence on her life, that reminded us that she will forever be American royalty.
"From the Motown records I wore out on the South Side to the 'Who Run the World' songs that fueled me through this last decade, music has always helped me tell my story."
"Music has always helped me tell my story and I know that's true for everybody," said the author. "Whether we like country or rap or rock, music helps us share ourselves, our dignity and sorrows, our hopes and joys."
Michelle Obama. That's it, that's the tweet. #GRAMMYs pic.twitter.com/spjFXnwrwl

— Fashionista.com (@Fashionista_com) February 11, 2019
Michelle closed out her moment by reminding everyone of the power of music to break down all barriers.
"It allows us to hear one another, to invite each other in. Music shows us that all of it matters: every story within every voice, every note within every song," concluded the mom of two.
It's not only the crowd inside the Los Angeles' Staples Center who couldn't contain their joy at seeing Barack's wife. Twitter's reaction was priceless.
Michelle Obama: -breathes- #Grammys audience: pic.twitter.com/8MQikgEBLi

— philip lewis (@Phil_Lewis_) February 11, 2019
Michelle Obama: From Motown to-

All of Us: #Grammys pic.twitter.com/PNRHmJPn8e

— PowerStarLive (@PowerStarLive) February 11, 2019
After her Grammys appearance, Michelle took to Instagram to share a photo of herself and the other women who were on stage with her. In the caption, she gave a shout out to Alicia Keys and talked about "showing up for your girls".
"She is one of the most genuine, caring and thoughtful people I know," said Michelle about the "Girl on Fire" singer.
Michelle is a pro when it comes to surprising people.
In a December episode of "The Tonight Show", Michelle and host Jimmy Fallon decided to surprise a few unsuspecting guests who were on a tour of New York's 30 Rockefeller Center.
The sketch involved visitors to the famed building, who got onto an elevator expecting to go on a tour. The elevator would supposedly stop on the wrong floor, opening up to the unexpected duo doing a bit.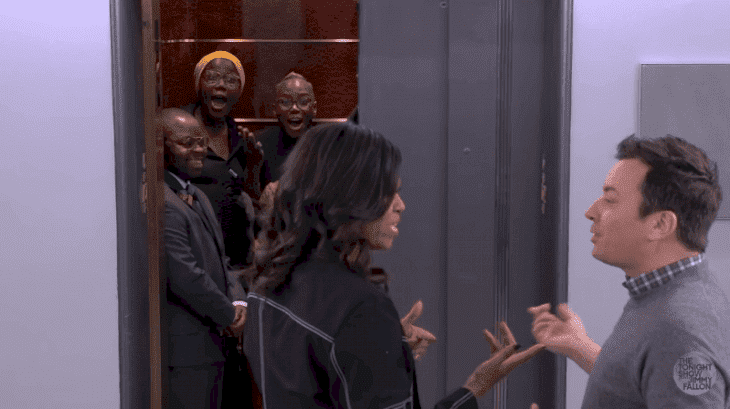 Sometimes the elevator doors opened to Michelle and Jimmy reading each other's books – Fallon wrote a children's book called "Everything Is Mama". Other times the doors opened to Jimmy performing a magic trick where he made Michelle appear from behind a sheet.
Once, the doors opened to reveal Michelle showing off her jump rope skills. No matter what Jimmy and the former FLOTUS did, the reactions of the tourists were always comical. Some screamed, laughed, while others were stunned to silence.
The Oscars are right around the corner and "The Black Panther" is up for six awards. Who knows, maybe Michelle will surprise us once again and pay tribute to this groundbreaking movie. Let's wait and see.