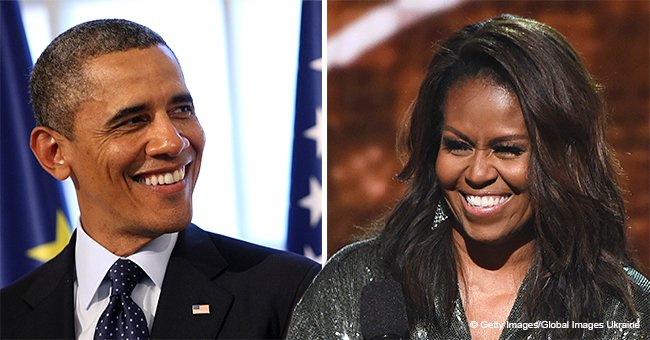 Barack Obama praises wife Michelle in discussion about 'being a man' during a leadership forum
One week after paying tribute to his wife on Valentine's Day, Barack Obama once again praised Michelle Obama while speaking to young people on Tuesday about being a man.
Barack, 57, teamed up with NBA superstar Stephen Curry, 30, to address young men at a leadership forum in Oakland California, reports The Hill.
As part of a discussion on issues such as toxic masculinity and self-confidence, the former US president could not help extolling his wife of 26 years.
"Let's face it, a lot of hip hop and rap music is built around me showing how I got more money than you."
"If you are really confident about your financial situation, you probably are not going to be wearing an 8-pound chain around your neck," Barack said to thunderous applause from the audience. "Because you know 'Oh I got bank. I don't have to show you how much I got.'"
He added:
"If you're very confident about your sexuality, you don't have to have eight women around you twerking… Because I've got one woman who I'm very happy with, and she's a strong woman."
Barack and Stephen were at the forum in celebration of the fifth anniversary of "My Brother's Keeper Alliance," the former president's non-profit initiative aimed at supporting mentorship and preventing youth violence among young boys and men of color.
During the event, the "Audacity Of Hope" author described how racism and pop culture promote stereotypical perceptions of masculinity and advised young men not to fall victim to the "trap."
"I think part of the challenge we have is because, oftentimes, racism, historically in this society, send a message that you are less-than and weak," he said. "We feel like we've got to compensate by exaggerating certain stereotypical ways that men are supposed to act, and that's a trap."
Barack continued:
"Let's face it, a lot of hip hop and rap music is built around me showing how I got more money than you, I can disrespect you and you can't do nothing about it. … If you're confident about your strength, you don't need to show me by putting somebody else down. Show me how strong you are that you can lift somebody else up."
Earlier on in the forum, the charismatic leader subtly made a case for gender equality, introducing himself and Stephen as "Michelle's husband" and "Ayesha's husband" respectively.
Only last week, Barack joined in the global celebration of love with a photo of his wife dancing.
"Happy Valentine's Day to the extraordinarily smart, beautiful, funny, one and only @MichelleObama," he captioned the post. "It's true; she does get down to Motown."
Please fill in your e-mail so we can share with you our top stories!