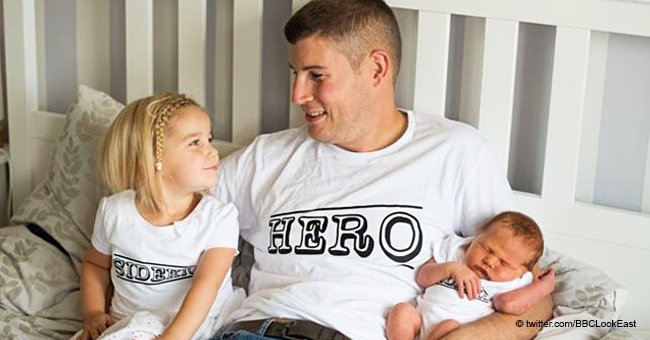 Father Meets His Newborn Baby Three Hours before He Dies
Four years ago a Linslade teacher was diagnosed with grade 4 glioblastoma brain tumor shortly after the birth of his eldest daughter. He was only supposed to live for 12 years but proved the doctors wrong.
He managed to have a second daughter within that time. However, on February 11, his wife gave birth to his last daughter and he was able to stay alive long enough to meet her.
PE teacher Brett Kinloch, 31, died this month after a long battle with a brain tumor. He passed away on the same day that his wife Nicola went into labor with their third daughter, Ariya.
Nicola gave birth to her last daughter at the Luton & Dunstable Hospital. Then 50 minutes after giving birth she, her mother Jill, and the newborn baby rushed to the M1 to Milton Keynes Hospital to see Brett before he died three hours later.
Speaking about the bittersweet moment, Nicola said:
"It sounds horrific, but it could have been a lot worse, she could have been born 24 hours later. I take a lot of comfort in the fact he did meet her."
She described their first and last meeting stating:
"I laid her on top of him and she had a cuddle. He could hear what was going on and he knew we were there, I'll always be grateful for that."
Nicola and daughters Freya, 4, Ella, 18-months, and Ariya have had round-the-clock support from family, friends, and the community they live in. She only had gratitude for all the help they got.
She shared:
"I can never thank the NHS enough – the call-out doctor called Tim who kept Brett alive, the paramedics that took him over there... there were nurses from all areas of the hospital that just wanted to do everything they could. The midwives Hayley and Laura at L&D Hospital worked tirelessly and compassionately to get me on the road as soon as possible. There was no-one at the NHS who didn't go above and beyond to help us."
Brett was a Northampton born PE teacher who was also head of the department at Cedars Upper School. He and Nicola met when they both began their teaching careers at Milton Keynes Academy in 2010.
Brett survived his diagnosis with the help of family self-funded treatment abroad. However, just before Christmas, with his wife expecting their third child, he was informed that the tumor had regrown in an area of the brain that was inoperable.
His condition deteriorated greatly from that point onward. Speaking about her husband, Nicola said: "Brett never ever made excuses and he lived life to the full. He was still working three weeks before he died; he wanted to provide for his family."
She shared that he'd loved life and didn't let the disease stop him. The family still went on holidays abroad and even managed to take the children to Disneyland.
Sharing about how the children were affected by losing their father, she said:
"Freya is absolutely devastated. We lost my grandmother last year and so she has some understanding of what it is to lose someone. She used to call him her 'superhero handsome prince' and they did everything together. He was such a good dad."
An online fundraiser for the Kinloch family is available on GoFundMe.
In Britain, Ebony Stevenson, 18, gave birth at a hospital while under a medically-induced coma. She had no idea she was pregnant and ended up going to bed while feeling sick last year on December 2.
Four days later she woke up to find out she was a mother after her unborn child had grown in one of her two uteruses; a condition called uterus didelphys. Now Stevenson has accepted her daughter whom she named Elodie.
Please fill in your e-mail so we can share with you our top stories!